People say that the problem with the world's food supply is not about having enough to go round but about having it where it's needed.  The same applies to woodfuel and energy in general.  Like many people ,I have recently installed a wood-burning stove and the challenge is to find easy ways of getting the firewood to the stove.  Of course, there is the cutting and splitting and seasoning the wood as well.   But , the other issue is getting it from woodland to home , in a way that is inexpensive and does not waste fossil fuels.  One way that a friend of mine uses is a trailer on his bike, but this has quite severe limitations on how much can be carried.  You can see it demonstrated here:  http://peplers.blogspot.co.uk/2012/01/carry-freedom-bike-trailer-review.html
If you are going to use a car or van you can use "backloads" for moving your firewood - if a vehicle is going to a woodland for another reason we try to make sure that the return journey is used for bringing firewood home.  Another energy-aware method is to make sure that your wood source is near to home and people sometimes make arrangements with a local tree-surgeon,  to take their "arisings" as they call them (logs to you and me) when the tree cutter is passing the house.  It may seem crazy but some tree surgeons find themselves actually paying to dump the trunks of trees or branches that they have cut.
The old saying about wood burners is that they warm you up three times - when you cut the wood, when you split it and finally when you burn it.  If you include the physical energy in moving the firewood it's probably actually at least four times that your firewood will heat you up.  Here's a video clip showing an easy way to move logs:
This was taken in the Swiss alps from the passenger train that goes through a high pass to get from Paris to Italy;  it shows logs being transferred onto a train for transporting to a timber mill.  In some countries, where labour is more scarce and therefore more expensive, they are very likely to use hydraulics for moving wood around.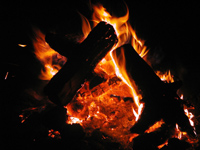 Technology is advancing rapidly in the moving of firewood and it's not just about bikes and hydraulics.  The strong plastics used for jumbo bags mean that logs can be more easily lifted and stored without being loose or in materials which rot away.   New log splitters are also making the process of preparing wood fuel easier and safer.  Here's an example:
www.woodlands.co.uk/blog/woodland-activities/processing-your-firewood-with-a-logsplitter/
The recent rises in energy prices for conventional fuels are not just driving demand for woodlands but are encouraging people to look at better ways of moving their logs and other woodfuel from woodland to their wood stove.
Leave a comment
Subscribe to our blog email updates
Managing Your Woodland for Wildlife
A new book on encouraging biodiversity in your woodland. Available free here »