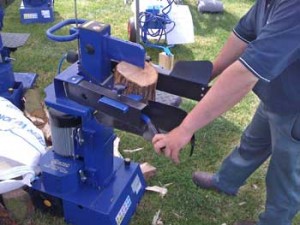 The current boom in the use of firewood for heating has led many people to ask what alternatives there are to splitting firewood by hand.  One option is to use a logsplitter which uses hydraulics but can be powered by petrol, tractor or electric.  Not easy to use off grid but useful back at home or in a garage or workshop. The purists may prefer to use an axe but, even apart from the exertion of using an axe, there are dangers both from the blade and from flying logs.  Splitting by axe also involves collecting the split pieces which adds work.  According to Janet Welburn who specialises in supplying logsplitters,  "often people get to an age when they don't want to use an axe or they are producing logs in large amounts and want the convenience of a mechanical logsplitter".
Because it works through hydraulic force the "blade" isn't sharp but simply presses down until the log splits - typically exerting a force of 5- 10 tons.  With a splitter like this one you have much more control than splitting with an axe so you can avoid making the split where there is a knot or other obstruction.  You need to use both hands to operate the machine and as you push down on the handles this brings down the splitting blade.
These logsplitters are not expensive, especially if they are going to be used intensively - they range in price from only about £290 up to about £4,000 for very industrial models.  The one pictured is an eco 60 model costing about £650 plus vat though where I saw it at Woodfest Wales it was being offered for £499 including vat and local delivery.
Clearly the rising price of non-renewable fuels has been helping boost demand for woodstoves and firewood.  Says Welburn, "if British Gas announce a price rise we can take orders for 5 logsplitters that day".  Ryetec sell several hundred a year from Malton, North Yorkshire, where they are located.  Most of these are imported from China, Italy and France although there are apparently still a couple of UK manufacturers.

Leave a comment
Subscribe to our blog email updates
Managing Your Woodland for Wildlife
A new book on encouraging biodiversity in your woodland. Available free here »