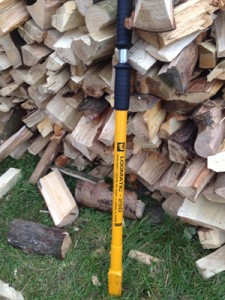 Many woodland owners get firewood from their woodland for stoves at home. Cutting the wood is important but splitting it into useable pieces can be a real challenge.  There are powerful electric machines to do it such as the hydraulic splitters (one described here) or you can split it by hand.  If you want to avoid using a traditional axe or a similar tool a good alternative is the logmatic wedge axe.
With this log splitter you place the point where you want the log to split and push the handle down with an energetic thrust.  This sends a strong hammer blowthrough the bar at the bottom so that the tip splits the log.  It is surprisingly easy to use and much safer than traditional axe-type solutions, and it works well on all softwoods and on ash and oak timber - though for beech wood it's better to split when it is still "green" or undried.
This logmatic splitting tool weighs 5.5 kilos, has rubber hand grips and costs £60.  It's been a great tool for me and compared to conventional axes it is also much safer - it reduces the chance of a severed foot or even back strain.  You can place it easily to the exact point where you want split the log.  I've also used mine also for making kindling and some professionals use them for breaking up stumps in the ground.
Crispin Rogers of www.logmatic.co.uk who supplies these Estonian-made wedge axes in the UK says, "I've now been selling these for 5 years and I've got 1500 happy customers, mostly owners of wood burning stoves."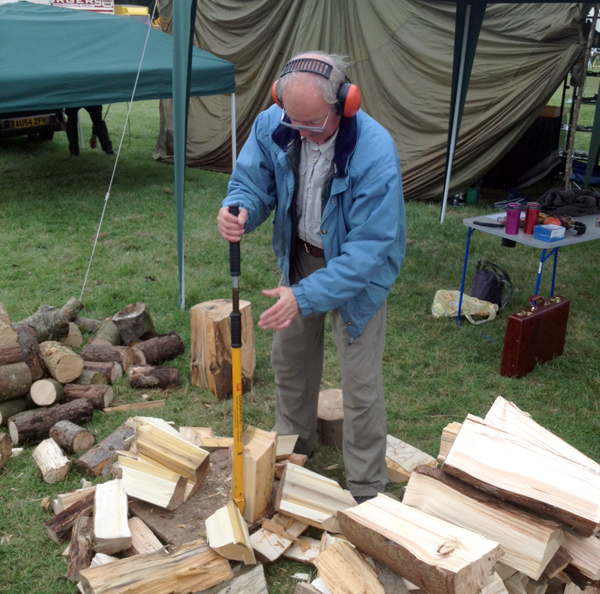 ---
---
Leave a comment