"I don't  need to attend a chainsaw course: I have been shown how to use one by someone who has been using a chainsaw for years, read a book, and have all the protective equipment required." That's what I thought until I attended a course with my son, who I had shown how to use a chainsaw safely.
I have been using a chainsaw for five years, for clearing overgrown tracks, and feeding the voracious wood burning stove that provides all my heat and hot water at home. My chainsaw usage couldn't be all bad – I had survived five years use without any problems, and only one near miss, that wasn't that near anyway.
However, my son and I decided that the time had come to go on a training course, to learn a few new techniques, how to sharpen a chain effectively, lose a few bad habits that I was sure we had adopted, but also to gain a formal qualification/certification in using a chainsaw:  that is, legally required in order to undertake any paid work. Or so I thought.
So, we booked the last two remaining places on a course run by Phil Dunford,  near Corwen in Wales. Phil's track record as two-times winner of the British Chainsaw Championship, and seven times winner of the Welsh Treefelling Championship was one reason for the choice, but so was the excellent feedback from previous woodland buyers who had taken advantage of Woodlands.co.uk offer of £300 towards a course.
The course kicked off in the workshop where we learnt about risk assessment,  chainsaw regulations, and chain sizes. Mercifully, Phil's approach was to cover this as quickly as possible, and move on to the practical skills needed on a regular basis: how to sharpen a chain, maintain a guide bar, and replace a sprocket, starter spring,  and starter cord.
On the second day we were out in the forest, Clocaenog Forest, a Forestry Commission wood where harvesting was in progress, and we were able to carry out selective thinning work.  Over the course of the next four days, Phil taught us how to start the chainsaw and check it is operating correctly, how to brash and buttress a tree in preparation for felling, and the types of felling cut for upright, forward leaning and backward leaning trees (standard, split level, dogs tooth, Danish), and then sned, crosscut and stack the timber. We had plenty of time to practice and perfect our techniques.
Finally, on the Friday evening and Saturday morning, in order to use the chainsaw for paid work and/or on other people's land, we took the optional assessment for CS30 (Chainsaw Maintenance and Crosscutting) and CS31 (Felling trees up to 15 inch diameter). To our great relief, not only did we both pass, but honour was saved by both of us only being one point away from a maximum score!
Phil is a hugely experienced and enthusiastic chainsaw user, and clearly enjoys sharing his knowledge. I now know how to make sure a tree falls exactly where it is supposed to, and how to deal with it if it gets hung up. Not only did I discover that a lot of what other people had taught me was wrong, but also that the techniques taught were better, safer, and more reliable than what I had been doing before. I had been expecting the course to be useful: it turned out to be far more than that. The only thing I regret is that I left it so long before getting the training.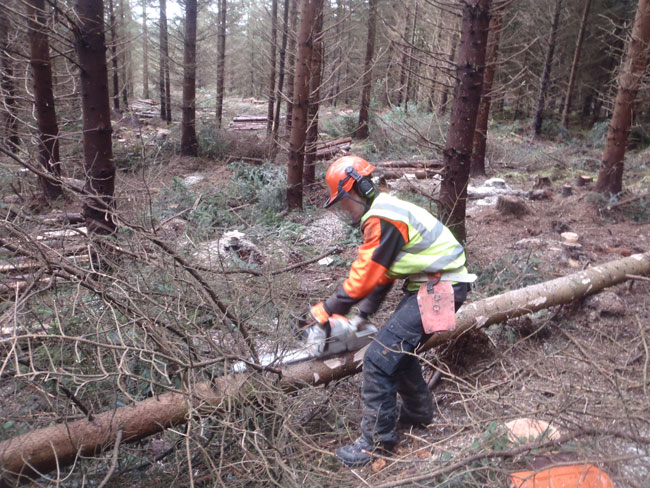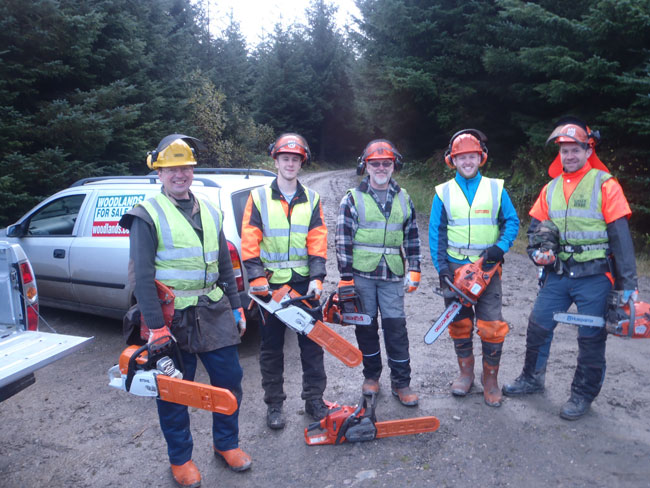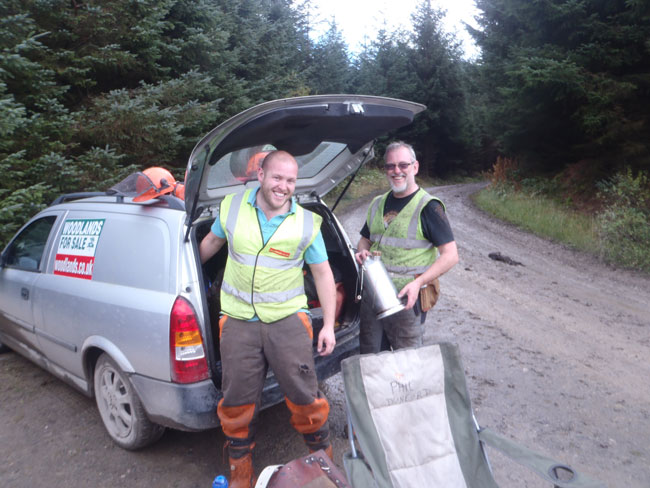 Comments are closed for this post.
Leave a comment
Subscribe to our blog email updates
Managing Your Woodland for Wildlife
A new book on encouraging biodiversity in your woodland. Available free here »