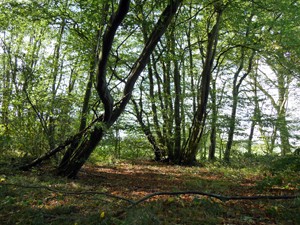 A few years ago I bought six acres of neglected coppice-with-standards: oak, ash, hazel, sycamore and birch. The coppice-stools are tangled and overgrown, and the standards are tall and bare-stemmed. My aim - to coppice the wood systematically for domestic fuel - dictated the equipment. I've never liked chainsaws, so planned to use hand-tools only. Since my wood-burner gobbles up to 15m3 of logs a year, and I work alone, am in my mid-60s and have had a quadruple bypass, this may have been ambitious.
I used bow saws at first, but they were too clunky to fit into crowded hazel stools, and kept wandering off course in thicker trunks. Geared loppers are great, but only for clearing the thin stems which, in my wood, go straight into the brash pile. I tried a Bahco pruning saw, but its blades kept bending or snapping, and a magnificent Finn-Garlick crosscut saw, but for single-handed sawing it was a non-starter. Finally, having heard good things about their admittedly expensive saws, I decided to splash out on a Japanese-made Silky. The model I chose was a 30cm Zübat with a wicked-looking, curved blade. (Price: about £59.)
What a revelation… The Zübat is stiff enough to poke into the most stubborn tangle of coppice stems. It cuts only on the pull, so you'll never buckle it. It's scarily sharp. You haven't really experienced a Silky until you've drawn blood at least three times. The geometry ensures that as you reach the end of your pull-stroke the curve progressively compensates for your fading blade-pressure, so you finish the cut at full strength - brilliant! And the teeth, which are cut into a complex pattern, just last and last and last - which is good, as a new blade isn't cheap. With a little cunning, the Zübat will fell trees up to 35cm diameter (14"); beyond 35cm I sometimes use a Silky Katanaboy, but that's another matter.
The Zübat is worth every penny of its price, but it's still not perfect. Here's a niggle: you can't sharpen it. Actually, I wouldn't even want to. It's a miracle of design and engineering, and I'm not going to mess with it. Also, the curve has one disadvantage: to fell a bigger tree with real accuracy, you want an exact notch-cut and a perfect hinge, which you can't quite get with a curved blade. If that matters to you, Silky does a straight-bladed version of the Zübat, called the Gomtaro.
I've become a Silky convert.
But here's the rub. Felling and logging with a hand-saw, then splitting the thicker logs with a maul, and then carrying 15m3 of logs out on my shoulders started to get tiring. I would have to buy a chainsaw after all, it seemed.
For several years I'd watched the development of Lithium–Ion battery chainsaws, and it seemed that they had got to the point when - for certain jobs - they were competitive with petrol-powered saws. After much 'Googling', I bought a 36v 14-inch Stihl MSA200 C-BQ (price, about £245 - £295) with a 6ah battery (£180). Again, expensive, but I liked the quality and the thoughtful design, and all the reviews suggested it would last.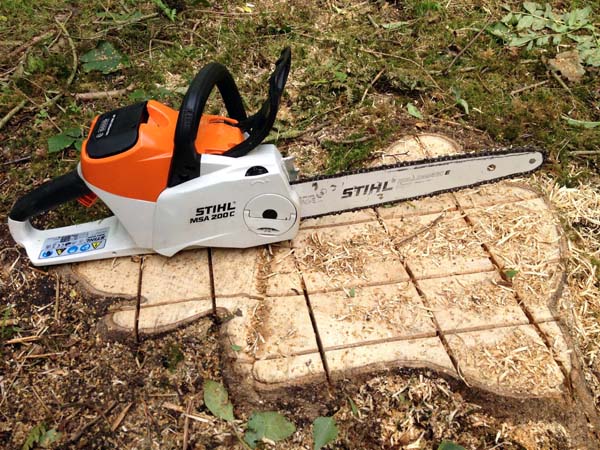 Why would anyone choose a battery-powered saw when petrol ones are proven and well supported? Several reasons:
I'm not coppicing commercially, so productivity isn't an issue.
I like my comfort zone. More power and a longer bar aren't necessary in my wood, and could get me into trouble.
I don't like the dirt, noise and smell of two-strokes. It's a relief not to have to use ear-defenders, or to have the beast sputtering away smokily between cuts.
One has to respect the MSA200's power limitations: in a deep cut, if it starts to slow, I back out slightly and it instantly picks up speed. Also, it doesn't like doing bore cuts; not in hardwoods, anyway. But Stihl have cleverly given it a very narrow bar and chain, so the power isn't wasted on a wide kerf. (Another benefit of the narrow chain is that it sips oil very frugally.) The battery gives nearly an hour of cutting, which for me equates to about three hours' work - about as much as I want to do at a time. I charge it overnight, and it seems to hold its charge indefinitely. The simplicity of a battery saw is a revelation: just press the trigger and off you go, and no messing about with leaky cans of premix, oiled-up plugs, unreliable starting and so on.
You may think I now use the Stihl all the time, but I don't. It comes out for the larger trees, or when I'm pressed for time. For most coppicing I actually prefer the Zübat. It's even quieter than the Stihl, so I can hear the buzzards overhead. It takes a little longer than a chainsaw, admittedly, but that stops me from rushing any difficult cuts. Importantly, using a one-handed saw leaves my other hand free to feel the tree as it tells me what it wants to do, and to steer the fall or relieve any pinching. In short, the Stihl battery saw is my concession to occasional necessity, but the Silky is a pure pleasure to use.
This combination of saws won't be right for everyone, but for my specific routine of small-scale wood-fuel coppicing it works very well. For hard-core foresters and arborists, it won't be long before battery chainsaws move into the mainstream. Batteries are improving all the time, and if consumer-level manufacturers are anything to go by - like Ego, with their 56v model, and Greenworks, with a stonking 80v machine - then the full-fat professional models can't be far behind.
---
---
Leave a comment