Barney or "Barn the Spoon" has become an icon and cheerleader of the emerging hobby of spoon carving and spoon making.  I met him at the Bushcraft Show in Derbyshire and was immediately drawn in by his obsession with the art - he must dream of nothing but spoons and knives.  As Barn says, "think how many times a day you use a spoon and it's the first tool we learn to use as children."  When it comes down to it, spoons are really bowls with handles.
Spoon making is about much more than just carving something useful - it's about the wood itself, the actions of an individual and making a thing of beauty.  Becoming a spoon maker also brings you into intimate contact with wood and it makes you part of what Barn has called "the wood culture renaissance".  Techniques that you learn from your spoon-carving tutor are "gifts that can never be taken away."
"Wood is a chaotic material," explains Barn, and its variables inspire sympathy from you as the spoon-maker and working with uneven wood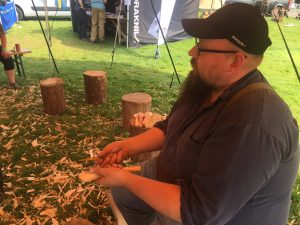 is "more spiritually rewarding that creating a perfect straight line or a circle."  What first got him into spoon making - after he trained as a woodwork teacher - was going on a chair-making course with Mike Abbott, who has introduced literally hundreds of people into green woodwork.  Barn has also been inspired by the Dutch master of design Jan Harm ter Brugge and Fritiof Rumhall, a Swedish craftsman who often attends Spoonfest.
That spoony festival is held at the beginning of August and although it is already sold out for 2018, their website gives you a taste of the arcane world of spoonery: https://spoonfest.co.uk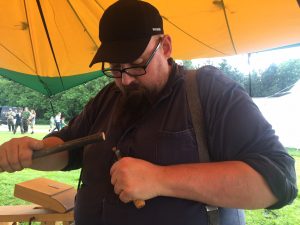 On the course which I just attended at the Bushcraft Show, Barn taught us dozens of knife tricks using both a straight knife and a bent knife to make a spoon out of green alder.  We learned different grips - a shin grip, a reinforced grip, a thumb-pull and a chest grip, but were also told that you shouldn't hold the spoon between your legs because, as Barn says, you don't want any genital injuries or to catch a femoral artery.  Use clear strokes and avoid short and hurried "cut, cut, cut".  His top tip is that whenever the carving is not going to plan you should suppress the urge to use more force - it's all about technique.
Asked what he enjoys most about spoon-carving, Barn says 'it's spending time in the woods and especially getting to know new woodlands'.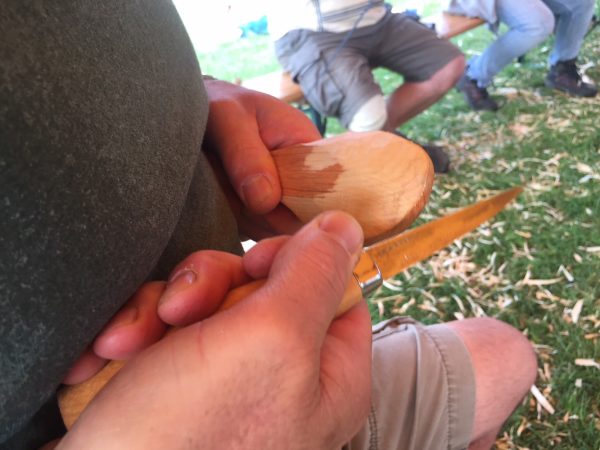 ---
---
Leave a comment