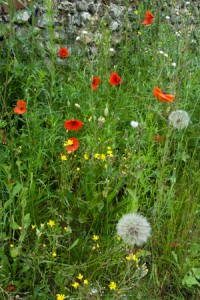 Recently the blog commented on the loss of wild flowers from country lanes and roadsides - occasioned by seeing nettles and cow parsley for miles, and very little else.  This loss of diversity may be attributed in part to the use of nitrogenous fertilisers and aerial deposition of pollutants.  It is 'rare' to see poppies around the edges of fields nowadays.   So what is happening ?
Obviously, the seed used by farmers nowadays has fewer "wild contaminants" but Plantlife is concerned that various agricultural management practices have placed arable plants under threat.  The need to make economic use of every bit of land, the increased use of herbicides (to control pernicious weeds - such as charlock, black grass, sterile brome) has a knock-on effect on many arable wild flower species, as has the greater use of winter planting.   In some parts of the country, a switch away from arable farming has also had its effects.
Some 150 wild flowers are characteristic of,  or associated with arable farming;  many are now threatened.  The majority of the 'uncommon species' are found in the south-east (crudely speaking - draw a line from the Wash across to the Bristol Channel) [full details available in a pdf from Plantlife ].  Some areas have a particularly rich flora - South Cambridgeshire, the Breckland of Norfolk and Suffolk.  Red hemp nettle, cornflowers, pheasant's eye, corncockle, corn marigold, fumitories, prickly popppies are examples of these arable / farmland species.    Many of these farmland plants are important sources of food for insects, seed eating birds and mammals.  The yellow hammer and the linnet are examples of birds that depend on such seeds during the winter months.
Farmers are being encouraged to create borders to their fields where such species can again flourish - many arable plants are annuals and are well suited to regular ploughing and ground disturbance (either in Spring or Autumn depending on the germination time).  As some annual seeds can persist in the soil for decades [the seeds of rough marsh mallow are said to persist in the ground for 180 years] , the cultivation of the field edges will give an opportunity for these species to 'come back' from seeds that have laid dormant in the soil for many years (seed bank).
A number of agri-management / environmental stewardship schemes are available, to quote from Natural England  "Environmental Stewardship is an agri-environment scheme that provides funding to farmers and other land managers in England to deliver effective environmental management on your land".
---
---
Leave a comment