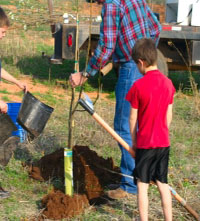 Invaluable guidance and tips on planting trees in your woodland in a two-part video presentation.  Richard Scholfield, Woodland.co.uk's Estates Manager for more than 20 years, explains how to care for your young trees when they arrive from the nursery, and the best method of planting.  Part Two will discuss how to protect your new trees to give them the best start.
[youtube=http://www.youtube.com/watch?v=khhN9jax6Ho]
See Part Two and lots more demos and tips at http://www.woodlandstv.co.uk/
---
Comments are closed for this post.
---