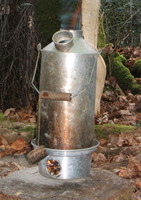 The Kelly Kettle is a uniquely  designed  kettle originating from the west coast of Ireland. Here they have been used for over a hundred years by the ghillies (angling guides) at Lough Conn to quickly boil water using twigs, dried leaves and other bits of wood found around the lake shore as fuel for the kettle.
The kettle comprises a double-skinned wall that holds water and a central open chimney. It sits on a small aluminium base with one large aperture as an air inlet within the base, which greatly increases the draw of the fire.  Because the water is held within the kettle wall it means that a large surface area of water is exposed to the heat and therefore boils very quickly.
Visiting anglers to Lough Conn were so impressed by this kettle they spread the word and now Kelly kettles have grown in popularity around the world, being used by a wide range of people.  We find they are an indispensable part of equipment to have in a woodland, where there is an endless supply of fuel.
How to use a Kelly kettle:
- Remove the kettle from the base and fill with water. 
- Put some tinder into the base of the kettle and light. We tend to carry a firesteel, which is a very good way of lighting a fire without matches or a lighter.
- When the tinder is lit, put the kettle back onto the base (ensuring the cork is not in) and quickly feed the fire with twigs, dry leaves, or whatever other materials you have at hand, by dropping them through the chimney.  When we are in a woodland we find that the side branches of conifer trees work very well in the Kelly kettle as they are brittle and full of resin so catch light quickly, even in wet weather.
- The water should boil quickly (usually 3-5 minutes) and then you can have yourself a nice cup of tea!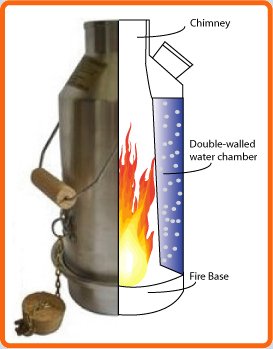 If you are interested in purchasing a Kelly Kettle, the cooking set which goes with it, or just want more information, they have a website:  www.kellykettle.com 
see more demos and tips on woodlandstv.co.uk
---
Comments are closed for this post.
---