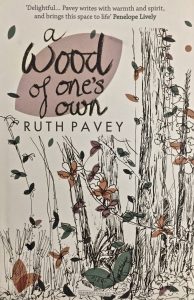 Ruth has that rare combination of being both an active doer and an engaging storyteller: "A Wood of one's own" is about what the author has done with her four acres of land in Somerset, neglected orchard and woodland.  It's the story of how, over the last 18 years, the land has been brought under control with help from friends and relatives but mostly the result of her sheer persistence and patience.  The friends have not always "got it" about why she has taken it on and they ask questions like, "what's it all for?" or "when will the wood be finished?"  But within the book are dozens of answers to sth question of why take on ownership of a small piece of countryside - to improve the woodland, to learn its history, to grow apples, to meet people, have parties, and just to experience the earthy business of managing the land.  It's clear from this book that actual ownership has big advantages over just having a right to visit a woodland - as Pavey says: 'Unless you own the land you are not free to grow things where you like, to make mistakes, to "spuddle about".'
"A Wood of one's own" could easily be confused with other books about owning a small woodland.  For example, the book by Julian Evans entitled "A wood of our own"  or the book produced by Woodlands.co.uk entitled "Getting started in a wood of your own" which started life as "Badgers, Beeches and Blisters" - it is available at: https://www.woodlands.co.uk/owning-a-wood/badgers-beeches-and-blisters/badgers-beeches-and-blisters.pdf
There is also an excellent Forestry Commission Guide to owning your own wood, called, "So, you own a woodland?" which is available in PDF form online (note: link opens PDF in browser).  Each of these are excellent guides to how to get started in your own woodland but Ruth Pavey's book is probably the most touchy-feely, full of anecdotes about people she encountered and the practicalities of doing hands-on conservation work.  I found myself unexpectedly drawn into Ruth's world imagining sleeping in her "Rollalong" workmen's hut (on my own), trying to rescue obscure apple trees and digging out a reluctant pond.
The story starts with the purchase of land at auction and immediately moves on to meeting the neighbours which is one of those many pieces of implicit advice that Ruth Pavey is giving - if neighbours are on your side then all sorts of challenges can be dealt with - seeing off intruders, getting help with heavy work and finding out about the history of the land.  In the case of this particular piece of land, the most supportive neighbours are Ted and Andrew who virtually adopt the new London-based owner and keep a supportive eye on both her and the land.  But she is naturally very curious and even seeks out the previous owners who are living in a care home and they tell her the history of the land and how part of it came to be called Sugg's Meadow.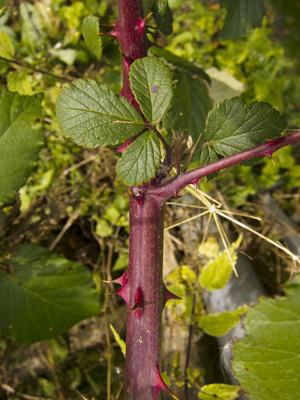 Like many owners, Ruth finds that having a secure and homely base is critical, especially for management and parties. She says about her shepherd's hut, 'The Rollalong remains the nerve-centre of everything I do in the wood, the place where the teas and coffees are made, the wine poured, the tools, books, outdoor chairs and binoculars live, the retreat when it rains..... all in all, I loved it'.  My favourite parts of the book are when she interacts with the plants and animals and looks at the woodland from their point of view: 'As rat catchers say, you have to respect a rat, so I came to respect brambles.'  And, 'nothing I plant is unobserved by the rabbits, deer or mice and very little is not to their taste.'
Ruth Pavey's day-job is as a gardening correspondent  and her background was in Drawing and Fine Art so perhaps it's not surprising that the illustrations are by the author.  The sketches of the woodland and the surrounding area feel as if they've come straight out of AA Milne's Winnie the Pooh.   However, you'll find "A Wood of One's own" a good deal more practical and full of helpful advice which has been artfully baked-in throughout.  If someone asks you what you'd like for Christmas or a birthday don't hesitate to reply, "A Wood of one's own".
Leave a comment
Subscribe to our blog email updates
Managing Your Woodland for Wildlife
A new book on encouraging biodiversity in your woodland. Available free here »