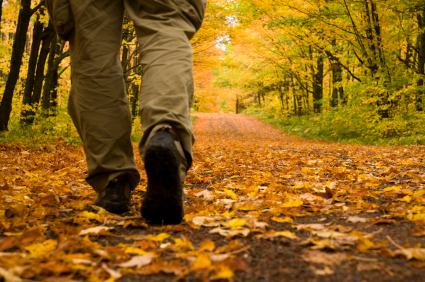 Sometimes it's those small irritations … Working outdoors has its penalties; we've dealt with midges and ticks, but what about blisters?  What's your favourite remedy? 
Prevention of blisters
Blisters on the feet
The blisters many people find most awkward are those caused by walking boots.  These are friction blisters.  Wearing well-fitting and broken-in footwear with clean socks can reduce friction.   
In hot conditions, it is a good idea to change socks frequently if you have sweaty feet, or to get hold of socks that can handle moisture.  These are often available from sports shops. 
Even with these precautions, the major preventative is to remember to break boots in before wearing them for any length of time.   If you start to feel a "hot" area, or even before you feel one, taping over the foot can help. 
If you use plasters, moleskin or tapes (preferably with a high coefficient of friction – CoF) they should be applied daily, but you can obtain special friction management patches that will last longer.  All available from good chemists. 
Blisters on the hands
It's not just blisters on feet that are a problem – working with tools makes blisters on hands all too common, and these can be particularly painful and inconvenient.  Using the same principle of friction reduction, one of the simplest but best methods is to wear gloves.   As a short-term measure, talcum powder or another lubricant can be used inside the glove, but be careful of using it as a long-term measure as it absorbs moisture. If you want a really long-term measure, how about some hand toughening up?  I can highly recommend fives, a form of handball, guaranteed to develop your feathery hands into biological steel.   
Blistered Skin
Blisters are not solely caused by friction.  Working outdoors, particularly in spring and summer, especially if you are outside all day, or for several days consecutively, can lead to sunburn, blisters and flaking especially on the face.  Fortunately, the obvious solution of sunscreen is a simple one, but one that even the most hardened veteran woodland campaigner has been known to forget.   
Treatment
The first thing to remember when treating any blister, no matter where it is, is to stop the irritation.  After that, they may be inconvenient, but they will always heal naturally.  For the record, new skin grows beneath the blister, the body reabsorbs the fluid within it and the skin on top dries and peels off.   
However, there are methods to help the healing process along.  A dressing can be placed over the blister, an emollient keeps it soft while it is raw, and soaking in warm water is a good way to ease pain. 
The actual breaking of the blister, on the other hand, should be allowed to run its natural course, because that is the best possible guard against infection.   If blisters do become infected, and sometimes there is little you can do if the blister splits, it may require a course of antibiotics. 
A useful tip is tincture of benzoin.  You can use it before applying tape to the skin (as above) as an adherent and in the long term for toughening skin.  If you have developed a blister and you want to prevent further abrasion, loss of skin or infection, try draining the fluid from the blister while injecting an equal amount of the tincture.   
Treatment of sunburn is, as with the prevention, fairly simple.  The natural process will ultimately take its course, but help is at hand in the form of moisturiser and after-sun lotion.   
One exception to the rule of letting your body heal itself is with blood blisters.  These can be excruciatingly sore and often turn septic if nothing is done.  The best move is to go for popping, which is worth it in the long term … honestly.   I hope these are a few useful pointers should you ever encounter a blister on your woody travels.  Got any other tips?  Let us know below.    
Leave a comment
Subscribe to our blog email updates
Managing Your Woodland for Wildlife
A new book on encouraging biodiversity in your woodland. Available free here »