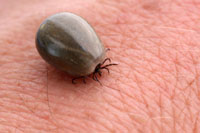 Anyone visiting woodland should be alert for ticks, which, though usually a harmless irritation, can carry Lyme disease.
What is a tick?
Ticks are Arthropods (animals with jointed legs). As they have four pairs of jointed legs, they belong to the Class Arachnida. This class includes spiders, scorpions, king crabs, and mites.
Ticks are large mites. Mites are to be found almost everywhere. The vast majority are quite harmless; living on decomposing matter in the soil or leaf litter. A few, however, are blood-sucking parasites of mammals (deer are often hosts) and birds. These parasitic forms can spread disease as a result of their feeding activities.
The parasitic ticks lurk on grass and other vegetation (they are paricularly fond of bracken), waiting for a host animal to brush against it. They are attracted to the host possibly by heat or carbon dioxide. Once on the host, the tick may move around, finding a warm, moist place to attach. Then it will begin to feed, using its mouthparts to penetrate the skin. As they feed over several days, they swell or engorge with blood taken from the host. The structure used to penetrate the skin is the hypostome; it has backward pointing projections on it that make the removal of the tick from the skin difficult. The tick may also produce a glue-like substance, which holds it in place whilst feeding. The glue dissolves away when feeding is complete, and the tick will drop off and fall to the ground with no 'harm' being done.
However, some ticks carry bacteria (in their stomach) that cause disease. They can cause illness such as Rocky Mountain spotted fever (in the States), Tularaemia, Q- fever, and Lyme Disease. It is the latter which is a particular problem in the U.K. The Health Protection Agency estimates that between 1000 and 2000 cases of Lyme disease occur each year. http://www.hpa.org.uk/infections/topics_az/zoonoses/lyme_borreliosis/enhanced.htm
The HPA is collecting information about Lyme disease and ticks – see http://www.hpa.org.uk/infections/topics_az/zoonoses/lyme_borreliosis/tick_recording.htm
See pictures at http://www.lymediseaseaction.org.uk/ticks.htm
Why is it important to remove a tick?
Because a tick on the body doesn't necessarily cause pain, it is important to look for ticks after visiting an area where they may be present. Check the backs of the knees, the groin, armpits and scalp. To reduce the risks of ticks, it is sensible to wear trousers / jeans, and keep them tucked into socks when walking through rough vegetation or wear insect repellent. (Also, check your dog if you took it with you.)
Removing a tick
As mentioned above, the tick feeds by pressing its mouthparts through the skin. In removing the tick, it is important to remove all of it and not leave the head or mouthparts embedded in the skin. Do NOT attempt to remove the tick by using a hot / burning match or chemicals as these may cause it to regurgitate its stomach contents into the wound, increasing the risk of bacterial infection.
Get hold of the tick with a pair of tweezers or forceps as near to the head as possible. Take care not to pull so hard that the animal is torn apart. Pull firmly but slowly until it releases its grip. Then apply an antiseptic cream or lotion.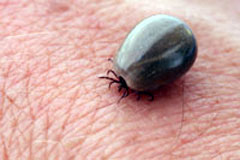 If this doesn't work, try looping a cotton thread around the tick as close to its head as possible and again pull firmly and slowly until it lets go. Then apply an antiseptic cream / lotion. If the tick is torn apart and the head remains in the skin, there is a risk of skin infection (but not Lyme disease). In which case, it is wise to have the bite checked out by a doctor.
If you have been bitten but successfully removed the tick, it is still important to watch out for any signs of Lyme disease. At the site of the original bite, look out for a red spot which gradually 'grows'. A pale area may form at the centre; this redness is known as erythema migrans. It may appear some three to thirty days after the bite, accompanied by headache and fever. Other symptoms include muscle and joint pain, drowsiness, swelling of the lymph glands (neck, arms, groin) and other red spots. If erythema develops - see a doctor immediately. Full details of symptoms, complications and treatment of this condition can be found at http://www.ilads.org/burrascano_1102.htm) and there is an excellent article on Ticks and Lyme Disease athttp://www.wadhurst.demon.co.uk/lyme/
Leave a comment
Subscribe to our blog email updates
Managing Your Woodland for Wildlife
A new book on encouraging biodiversity in your woodland. Available free here »