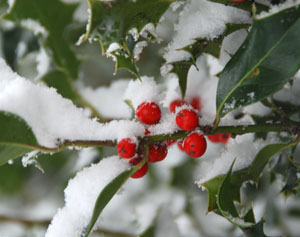 Back in November, a number of papers reported that our holly trees were full with their bright red berries, and that according to folklore this was a sign that a hard winter was to come.
There is no clear logic to this, as it is the Spring weather that determines whether there are insects around for the flowers to be pollinated, plus sun and warmth in early autumn to help the berries to ripen.  The berries are particularly plump and abundant this year.  The last 'good berry' year was last year (2009) and the winter that followed was the coldest for some 30 years.  Already, we are experiencing cold and severe weather conditions so perhaps the berries are 'right' again. Read more...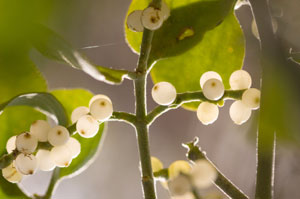 Mistletoe, one of the time-honoured symbols of Christmas is under threat!  For many years, the 'heartlands' for mistletoe collection have been the cider counties – such as Somerset, Gloucestershire, Herefordshire and Worcestershire.  However, many of the orchards in these areas have declined or have been lost over the last 50 / 60 years. It is possible that Mistletoe could become a rarity in our countryside. Read more...
Subscribe to our blog email updates