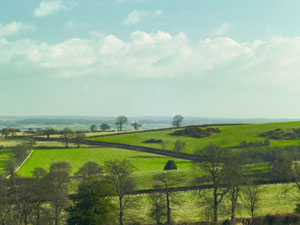 The Countryside Commission had the idea of creating a new 'National Forest' in 1987 – to give a tangible expression of the benefits of trees and woodlands.  It also has a practical role in terms of demonstrating the importance of carbon fixation (through photosynthesis) and the importance of this in the amelioration of climate change.
The National Forest was and is a bold project, focusing on some 200 square miles of central England (parts of Derbyshire, Leicestershire and Staffordshire).  The area includes farmland and the relics of coalfields & mineral workings, with some pockets of ancient woodland – for example, Charnwood Forest to the east and Needwood Forest to the west. A map of the area of the National Forest can be seen here .
Charnwood Forest is an upland area, which contains a variety of habitats including heathland, streams and open water areas; and is home to a number of rare species, such as the Charnwood spider.  It also contains some of the oldest rocks in England, and it is where the ediacaran fossil Charnia was found.  This is a frond-like structure.  It was the first ever fossil to be found in rocks of pre-Cambrian age, that is, about 550+ million years old.  At one time, Pre-Cambrian rocks were thought to be devoid of all fossils.  Charnwood is the only place in Europe where such fossils have been found.  Charnia was thought to be a type of alga (a seaweed-like plant) but then opinion changed, to it being an animal, related to the soft corals & sea pens.  It is not clear quite what sort of animal it was but it probably lived in deep waters on the sea floor  – perhaps it lived as a filter feeder on detritus that cascaded down through the waters.
Needwood Forest was a significant and ancient Midlands forest. However, the Enclosure Act of 1803 allowed for its disafforestation, which took some time to complete.  In his 'Plant Book', Mabberley notes that some 150,000 holly trees were felled from Needwood about this time, to provide bobbins for the cotton mills of Lancashire.  Bagot's Wood is said to be the largest existing piece of this ancient wood.
Nearly 8 million trees have been planted since the inception of the project (a mixture of broadleaf and conifers) and the woodland cover of the area has increased dramatically – from 6% to 18%.  The aim is to achieve a woodland cover of 25+ % with areas of open land, farmland, other habitats, an arboretum, orchards, hedgerows, a maze, canals, villages and towns. In places, 'new' habitats are created, for example, through the flooding of quarry pits which can then become home to a variety of wildlife (newts, dragonflies etc); where old 'stands' of conifers existed new planting of broad leaf trees creates a more diverse environment.
The National Forest website lists an amazing variety of places and activities, For example, this Easter, just one of the attractions - the Rosliston Forestry Centre (http://www.roslistonforestrycentre.co.uk/) is offering
laser combat
archery
wildlife watch
a science discovery day
a bluebell walk
an Easter egg hunt
cycling proficiency
Further details of the activities and places to stay throughout the National Forest area can be found at here.
---
---
Leave a comment