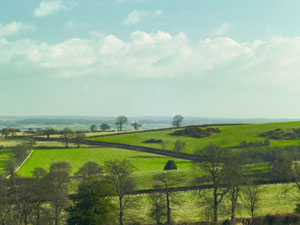 The National Forest scheme has celebrated its 25th anniversary.  It was and is a bold project, focusing on some 500 square kilometers of central England (parts of Derbyshire, Leicestershire and Staffordshire).  Whilst the area included farmland and some pockets of ancient woodland, e.g. Charnwood Forest to the east and Needwood Forest to the west, it also included many abandoned industrial workings such as opencast mines, quarries, clay pits and spoil heaps.
Some 8.5 million trees have been planted to date and now the area generates income through tourism - with some 8 million visitors (in 2014).  However, the rate of tree planting has declined.  The slowdown is planting is due to a number of factors
As the forest matures, it needs greater management (thinning to give trees space to grow and open the forest / woodland floor to wildlife), which takes money from other things.
Land prices are rising
Landowners have more options - such as tourism
The loss of the Tender Scheme - which gave landowners incentives to plant trees
The creation of a forest is not an overnight event, it takes a long, long time.  Over such a period of time, local and national needs can change.    In the post-war period, there was a need for timber reserves (which lead to the planting of many, large coniferous woodlands), then there was a move to promote public access to the countryside, more recently the importance of conservation & biodiversity has come to the fore.  There is also a focus now on jobs and growth - which puts wood production and tourism high up on the list and ecosystem services that woodland and forest can provide.  Ecological services include :
Improving the visual and physical environment
Interception of heavy rain / run off
Absorption of carbon dioxide & acting as a carbon store
Soil stabilisation
In additional to the planting of large areas with trees and shrubs, there is also a need for ecological corridors to link existing woodland areas to create a 'joined up' landscape in which plants and animals can move.   As the National Forest has matured,  it has become home to wildlife, for example, buzzards, red kites, butterflies, skylarks, owls and bats.  The landscape has been transformed and renewed.  This has been achieved at a cost of approximately £60 million - about the same as two miles of motorway!
---
---
Leave a comment