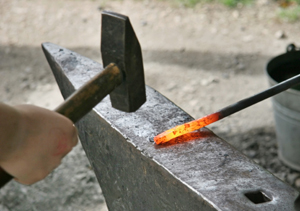 Tom is 21 years of age and a skilled craftsman - a blacksmith. He has recently become a woodland owner (via woodlands.co.uk) by purchasing Raleigh Wood.  Raleigh Wood is situated on a sunny hillside with far reaching views of the valleys towards Dartmoor. His partner, Cara, is also a blacksmith and will be managing the woodland with Tom.   I asked him when they started the journey to their chosen career and how they ended up owning a woodland at such a young age.
"Being younger is no barrier as you have more time, more energy and maybe more stupidity!  I am a Blacksmith by trade and live not far from the woodland I purchased in December 2012. The biggest expense for a blacksmith is fuel so owning and managing woodland makes financial sense". 
Tom has always liked the idea of learning and using a traditional skill. Learning his craft at the National school of blacksmithing in Hereford, (http://www.hct.ac.uk/College/rural_crafts.html) put him in good stead. This is only one of only two Smithy schools in the Country that provide EdExcel/BTEC First Diploma to Degree level qualifications in this skill.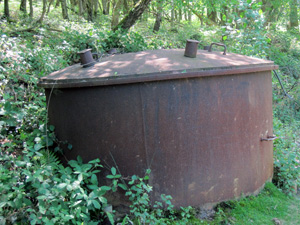 Tom explains "There is a long history of charcoal for the iron industry.  Professional charcoal burners, or 'Wood colliers' as they were called historically, would tend to charcoal burners during the long burns which lasted throughout the night. This meant they would live in small huts nearby, or even in, the woodland whilst producing the fuel from coppice. Often Blacksmiths would work near rivers as this could link up to canals and waterway transport routes to sell their wares".
What skills does it take to be a Blacksmith? Can you explain a bit about what you do?
"Being a blacksmith is similar to wood crafts as you are doing things by eye to make functional items that also look good. Good hand - eye co-ordination is essential".
Tom will use the hazel in his woodland to make charcoal. Alongside this, alder wood is fantastic for charcoal as it burns very hot. Tom will use his supply as well as working with neighbouring woodland owners to provide him with a sustainable charcoal supply and providing woodland owners with a market for Alder.  It is far better to use locally grown wood to produce the charcoal as this saves transport costs,  helps to manage the woodlands in the area (it is suggested that 60% of Devon woodlands remain undermanaged) and is better for the environment as a whole as is a cleaner burn than coal and has no sulphur.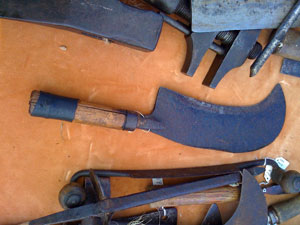 Tom explains they will put their hand to anything but not horse shoes! This is a different specialism and skill and these craftspeople are called Farriers.  Tom currently focuses on country kitchen ware and a few specialist items but wants to turn his skilled hands to making tools. This could lead to selling produce at local shops and markets and using Raleigh Wood as a location for leading occasional courses on charcoal burning and tool making.
One tool Tom and Cara have already made are billhooks. A billhook is a tool traditionally used for hedge laying and a very useful tool for the coppicing of hazel and for any woodland owner. There is a place on Dartmoor where these tools are still made by hand, perhaps one of the only places in the country  (http://www.thisiscornwall.co.uk/Craftsman-s-making-tools-yesteryear/story-15130564-detail/story.html#axzz2PJhkxkgt). This completes the cycle of the woodland for Tom, making a tool from his own wood then using it to cut a supply of wood for next year.
How will the woodland fit into your work or lifestyle?
"Charcoal is not used much presently as it is too expensive and therefore coal is chosen. Being able to produce my own charcoal will make the cost more reasonable to use charcoal. I can then use this to help me market the items I make as a Blacksmith as they will be made using local and sustainable resources". 
As well as finding a sustainable charcoal source Tom and Cara both have other reasons for becoming proud woodland owners. Raleigh Wood is a retreat to enjoy the virtues of nature and the calm and enjoyment it can bring. They are going to use their woodland for occasional camping and to enjoy the outdoor life by cooking on fires.  There are signs of dormice in the local woodlands as well as numerous species of birds to observe using binoculars. All of this adds to the joy and thrill of owning a lovely part of Devon woodland.
How does it feel to own a woodland at your age?  Do you have any advice for someone young who may have similar dreams and aspirations?
"Don't be afraid of jumping at the deep end! Try something and if it doesn't work out there is plenty of time to review it. I am lucky that I am able to link Raleigh Wood with my livelihood in some way but also being a woodland owner is just great fun and I am glad I have taken the plunge".
Tom hopes that he may be able to form a local small woodlands co operative and work with other owners to provide coppice for charcoal burning. This should encourage other owners to manage their woodlands.
"It's great for everyone" explains Tom, " and at the end of the day Cara and I can sit around the camp fire in our woodland with a hot chocolate made on an open fire and enjoy the serene experience of being a woodland owner".
Leave a comment
Subscribe to our blog email updates
Managing Your Woodland for Wildlife
A new book on encouraging biodiversity in your woodland. Available free here »