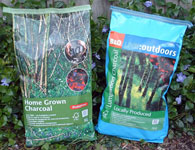 Some 90% of the charcoal used in the UK is imported. In terms of CO2 emissions, this is not good news as so much petrol/fossil fuel is used up transporting it to the UK.
So why not use home produced charcoal? This is now possible if your charcoal comes from the Bioregional Charcoal Company (BRCC) or if you are visiting Wakehurst Place in West Sussex, then you can buy their locally made charcoal from the Visitor Centre.  
BRCC works with some 25 different producers in the UK to produce and sell around 300 tonnes of charcoal each year. It can even be bought through B&Q stores. Most of this is produced from wood derived from local coppiced woodland.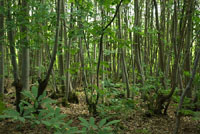 Coppicing involves the cutting back of trees to stumps that are then allowed to grow again. The timber is cut from the trees every 7 to 20 years (depending on the species of tree and the use to which the timber is to put to). Coppicing creates a mosaic of woodland stands of different ages (sometimes called coups), it helps promote biodiversity allowing certain endangered species (such as the dormouse, the wood white butterfly etc) to flourish.
Charcoal is not the only product from coppicing; coppiced ash and hazel can be used in the construction of fencing (sometimes referred to as hurdles) and other products, such as tool handles, plant supports, dibbers, and simple furniture.
Coppicing, which has been practiced in this country for hundreds if not thousands of years, is a sustainable woodland management system. Sadly, the area of actively coppiced woodlands has declined dramatically since the end of the 1940's (when coppicing helped with limited fuel supplies). English Nature would like to see 70.000 hectares of woodland under active coppice management but this will not happen unless there is a market for the products of coppicing! So go out and buy a bag of locally produced charcoal.
For more information on coppiced woodland – see:
http://www.english-nature.org.uk/pubs/handbooks/pdfs/upland/08_woods.pdf
---
---
Leave a comment