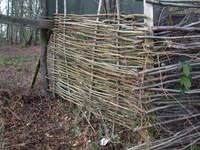 The reason I made the hurdles at first was to hide an unsightly rubbish tip.  I decided they'd look a lot nicer than a garden-style fence.
The wood I used was hazel as it's easy to bend around the uprights.  Length is determined by the area to be hidden and available wood.  Fairly straight lengths are needed for the uprights, less so for the weaving.  I put the uprights in the earth and hammered them home with a mallet.  The lower ends were pointed to make the going easier!  They're about 2 feet apart, the number used varies with the length I need to cover.
The weave sticks were around half an inch in diameter.  Most reached from end to end, but here and there two lengths were used.  Once complete they were cut to size using croppers.  In the hurdles I've done so far I've not run a length of wood along the top of the uprights.  I suspect this might make the structure rather stronger.
I can't do this at the bottom though as they're buried to give the required rigidity.
When I hid the tip behind the hurdle there were small trees in the way, some of which I used as uprights for the hurdle, giving a somewhat "rustic" appearance to the finished product!  After the rubbish tip, I moved on to making screens for the toilet.  Uprights about 7 feet tall were used to give the degree of privacy required for the users.  As time has gone on I feel the hurdles are better, they now look rather neater.  They're too transparent for the loo enclosure for my liking, so I've used rot-proof black material inside the enclosure, so it looks natural from the outside but is private inside.
I only needed gloves, a saw, croppers, and a length of rope to bind all the thin stuff I'd gathered to make it easier to haul it back to the working area.  Thus far I think I've only done four hurdles.  Getting the wood is time-consuming.  Anyone got any suggestions for speeding up this part of the process?
Leave a comment
Subscribe to our blog email updates
Managing Your Woodland for Wildlife
A new book on encouraging biodiversity in your woodland. Available free here »