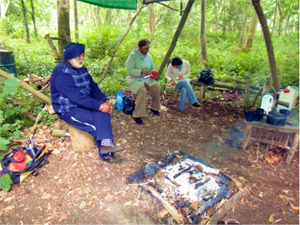 Visits to 'Glede Wood', Shropshire, provided for the use of the Small Woods Association by Woodlands.co.uk, have begun again with the start of our new project 'Branch Out'
Our Social Forestry projects have targeted a range of disadvantaged groups from NEET's (Not in Employment Education or Training) to women offenders. This time we are engaging members of Telford's black and ethnic minority.
We have managed to gain some funding to buy a minibus, bought cheaply courtesy of Hitachi Capital, which allows us to pick people up from the town centre. As a result this broadens participation and removes another barrier to exploring the forestry sector.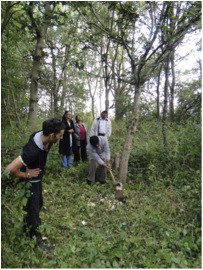 The group arrived on site back in June to discover what just a few months neglect can do to a bivouac camp. They have now, however, got the place tidied up, restrung the tarps and begun small woodland projects of their own. Their projects have begun with simple tasks to understand basic jointing techniques and they have utilised their new knowledge with more advanced projects such as chair making. It is wonderful how their experiences and learning from their homelands has filtered through to the project and given them a sense of belonging.
The project is aimed at members of the BME community from Telford who potentially experience issues around wellbeing and isolation and as a result often the most valuable time is spent chatting over a campfire cooked lunch or storm kettle tea.
Discussions are often about the similarities and differences between the landscape here in the UK and from their native countries. One of the key outcomes of this type of project is to enable people to better identify and take ownership of their local landscape. With understanding come's respect, and a desire to preserve.
This is a good arena for people to spend time chatting, as often much of their daily routine is segregated either by work or at the place of worship. This was a surprise as at the beginning of the project the anticipation was that we may need to run a women only day, apparently not !
A
ll of the participants have involved themselves in helping each other with their respective projects and there is a good social rapport which continues on a weekly basis, discussing topics which have a common theme between them, and their experiences.
We continue to observe ways in which we can widen the participation within our social forestry groups, and, this week we had staff from West Mercia Probation team come out to the site to see what it is all about. They had a great time, although one or two had to be persuaded that they probably wouldn't get to finish making a chair in one day! They also discovered that good spoon carving is not as easy as it might first appear. However, we hope that despite aching wrists they will be better placed to refer relevant people from the probation service who may benefit from the therapeutic nature of the environment, as well as, creating craft and managing trees within the woodland.
The challenge ahead now lies with getting some management done, Ash trees need thinning and coppicing, young Oaks need the light and formative pruning and the large Crack Willows need bringing down to size!
Comments are closed for this post.
Leave a comment
Subscribe to our blog email updates
Managing Your Woodland for Wildlife
A new book on encouraging biodiversity in your woodland. Available free here »