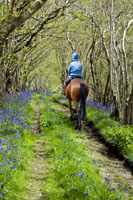 The Toll Rides (Off-Road) Trust – formerly South Eastern Toll Rides - was established in 1990 by a group of riders who were concerned at the growing amount of traffic on the roads. Their approach to local farmers led to the first toll ride being opened on agreed tracks and headlands. In just a few years, dozens of networks of toll rides opened in the South-East.  By 2008, TROT had over 105 toll routes in 13 different counties. 
 TROT  works closely with local farmers and landowners to establish rides and to promote a mutually beneficial relationship. It also administers the forest riding permits scheme for the Forestry Commission and in many forests in the South-East. The routes are designed, where possible, to link public bridleways, or to create a new circular route. Licence holders pay a fee to TROT for the right to ride over any of the designated routes and are issued with a yellow, numbered hatband that must be worn as proof of membership.
The farmer, landowner or forest owner receives an annual share of the licence fee, the remainder going towards TROT's administration and management costs. 
TROT welcomes new members and landowners who would like to be part of this organisation, which gives such enormous pleasure to thousands of riders. For more information contact TROT at:
Tel 01622 735599  Fax 01622 739966
Leave a comment
Subscribe to our blog email updates
Managing Your Woodland for Wildlife
A new book on encouraging biodiversity in your woodland. Available free here »