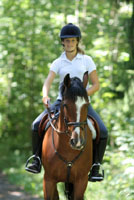 If you have your own woodland you can use its tracks for riding a horse or pony, but most riders also want to go further afield. And, of course, most people don't have their own wood. Riding on roads can be dangerous and is, anyway, less enjoyable than riding on car-free tracks, so there have been various schemes developed to enable more off-road riding.
Although there are hundreds of miles of bridleways that provide off-road riding, there are many areas around the country where there simply aren't any useful bridleways and many of them go between busy roads. Almost 20 years ago a few people got together to try to create more private off-road tracks by paying a fee to local landowners for access. The idea was that the riders would each pay a subscription that would entitle them to use all the routes agreed for miles around. The toll ride scheme also organises riders to join working parties to help clear back trees and shrubs that encroach on the tracks.
Woodlands.co.uk agreed to its tracks being used as part of one of these routes. This is down in Kent and, though the track is heavy clay, we have had a very positive experience of the toll ride scheme. We have worked mostly with Ross Rowan, a keen toll ride organiser and horse owner. Her objective was to create off-road routes with a good circuit and minimal road use for riders and where the landowners would be happy with a long-term arrangement. As owners we could have simply pocketed the money we were paid, but we decided to spend all the money (which is a little over £300 per year per mile) on improving and maintaining the tracks themselves. It works well and the TROT scheme, previously called South East Toll Rides, has now been using our tracks for several years. Riders wear a badge stating they are part of the scheme and confirming their membership. Beside the locked gates into the woodland, there are small, horse-only gates which can be opened and closed by a rider without the need to dismount.
The off-road toll rides movement is led by TROT whose website is at: http://www.tollrides.org.uk/
Leave a comment
Subscribe to our blog email updates
Managing Your Woodland for Wildlife
A new book on encouraging biodiversity in your woodland. Available free here »