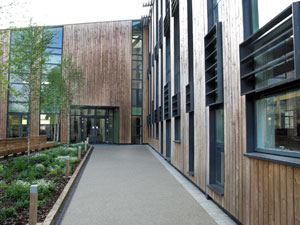 The Woodland Trust has been going since 1972 and has grown into quite a big organisation with a turnover of over £25 million per year and it owns over 1,000 woodlands covering about 50,000 acres.  It's big in other ways too with about 270 staff and a spanking new headquarters at Grantham which they moved into in mid-November 2010 and large collection of supporters and volunteers.  Last year, the membership topped 200,000 and this had doubled over the previous 9 years.
Woodland Trust's new big objective  - more trees!
So, in the woodland world it's a big beast but what does it do?  Like a sea-going tanker changing direction the Woodland Trust has changed its objectives very significantly in the last year or two, under its CEO Sue Holden.  From being a land-hungry charity which at one time bought or was given a new woodland every week, it has moved much more towards being a lobbying organisation with a passion for the creation of new woodlands.  Referring to its objectives, Sue Holden says in the annual report that she wants "to persuade everyone to plant trees ...to create woodland", that she also wants to persuade "local authorities and community groups to create more woodland".  She asks for their funding partners to support further tree planting and members to ask themselves what they can "do to ensure more trees are planted".  So their new objective is clear and is very central to their lobbying: they now describe themselves in part as an advocacy organisation.  They have set an example in doing large scale tree planting with a big project of 1,300 acres called "Heartwood" where over £9 million has been invested and well over 35,000 trees have already been planted and the Woodland Trust says it is creating "England's largest continuous new native forest".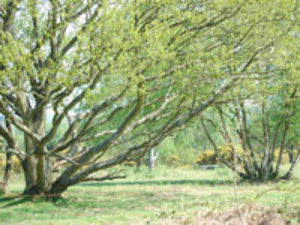 But how is the Woodland Trust funded?
In a sense the answer is that it is very well-funded because it has successfully positioned itself as the leading woodlands charity in the UK and it own woodlands that it values (conservatively) at £63 million in addition to about £25 million of more liquid investments.  It has a team of over 50 people doing fundraising and through them it is able to raise about £13 million each year of which one of the most significant sources is legacies, which result from the Woodland Trust being named in people's wills.  Last year this amounted to about £7 million and the previous year to £8 million.  But it has many other useful sources of funding such as the Landfill tax, Forestry Commission grants (over £1.2 million per year) and Lottery funding.   It spends over £8 million of this income on the costs of employing its staff.
Specifically what new planting does the Woodland Trust want?
Woodland Trust's objective is to lobby everyone they can think of to increase the annual rate of tree planting with a specific objective: they want to double the UK's native woodland tree cover over the next 50 years.  Currently average UK tree cover (including coniferous woodlands) is just under 12% (but more in Scotland and Wales).  They calculate this objective of doubling native tree cover will require 15,000 hectares of new broadleaved planting each year.  That's a tough challenge as levels of new broadleaved planting have been reducing in recent years.  Success will depend on government policy so the Woodland Trust realise that they need to lobby government actively and are making a concerted effort to do just that - they managed to get all the three main political parties to support new woodland creation as a manifesto commitment (and 800 parliamentary candidates signed up to the Woodland Trust's woodland creation objectives).  The Trust has also recently organised an event at the House of Commons called "Growing the Future" hosted by Nicholas Boles where they launched their tree-planing agenda.  Some people at the event were heard to express reservations wondering if agriculture can afford to lose so much land to new woodlands but most were very supportive and a gaggle of MPs and a couple of Lords turned up to talk woodlands with many representatives of the forestry industry.  Caroline Spellman, of DEFRA, endorsed these aims and mentioned some of the projects that will help in promoting the Woodland Trust's woodland creation agenda - including the NHS forest, work on the Defence Estate, the Waste Management Sector projects and the More Woods project.  There will also be some tree-related aspects to the Queen's 2012 event to celebrate Elizabeth II's 60 years' reign.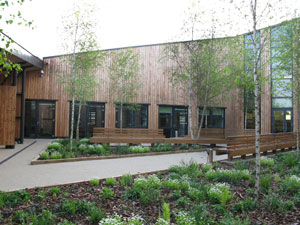 Where does this leave the Woodland Trust?
Some people express annoyance at the extent to which the Woodland Trust set the national woodlands agenda (including that of the Forestry Commission) and it is true that they have galvanised DEFRA and others into working towards more tree planting.  Thousands of people donate money to the Woodland Trust if these donors think general donations will be going towards buying and managing new woodlands they are probably mistaken - much of it will be going towards advocacy and campaigning.  The Woodland Trust have indeed been buying some more land but not very much of it: last year they spent about £500,000 on woodland acquisitions and bought about six new woodlands totalling only 150 acres around the country, almost all of it to extend existing woodlands in their ownership.  Where they have been buying larger woods such as the 240 hectares at Lang Craigs near Dumbarton, Scotland, they have been doing it with dedicated partners such as the Esmee Fairbairn Foundation. 
But they have also been selling woods, which they describe as "transfers" - this must make business sense to rationalise their woodland portfolio which grew in a somewhat topsy-turvy manner but it can be slightly controversial where they dispose of woodlands that have been donated to them.  For this reason, at least, their disposals have been low key and they tend to use local estate agents or contacts with neighbouring owners.
We strongly support the Woodland Trust which is still growing but we observe that it has changed direction and is very much increasing its lobbying role from its newly built Grantham headquarters.  What do you think?
---
---
Leave a comment