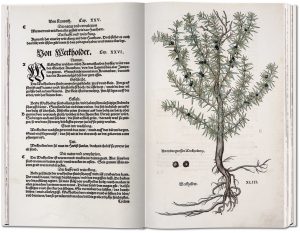 There is a long history of producing guides to help identify and explain the flora and fauna of woodlands. From the fine woodcuts in Leohart Fuch's New Herbal book of 1543 to the Woodland Trust's tree identification app. for smartphones in 2017, we have been naming and visually representing our plants and trees through the ages. Following this rich tradition Woodlands.co.uk have launched a range of educational posters designed to help primary school children recognise and understand what they can see in their woodlands. Read more…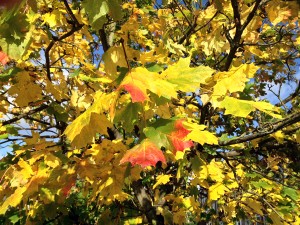 At some point during the months of Autumn,  the leaves have done their job (that of making sugars to be used in growth, the formation of new twigs and branches, forming fruits and seeds).  However, winter is not good for photosynthesis or growth; winds, low temperatures and low light intensities adversely affect a tree's ability to make sugars. Indeed, if the leaves were retained throughout the winter, they might be regarded as a liability as they would use the the tree's reserves (that were stored away in the Spring and Summer).  Plus, leaves would offer greater resistance to the wind and the tree would be more likely to suffer damage.  High winds are always more dangerous to a tree when it is in full leaf. Read more…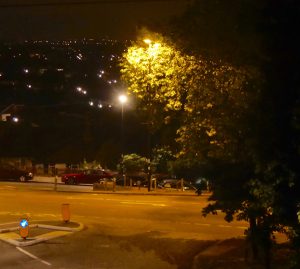 Street lighting may make our roads and homes safer places, but it also contributes to light pollution.  The bright lights of towns and cities make it difficult for us to see the stars and constellations in the night skies.  In places, the 'warm yellow' glow of street lights is being replaced with the white light of LEDs,  the benefits of LED lights include energy savings plus an increased life time as compared to conventional lights. However, when compared to older street lamps they emit more  blue light increases.   Some think that this blue light can suppress the production of melatonin ; this is involved in the regulation of our circadian rhythms – particularly our sleep patterns. Read more…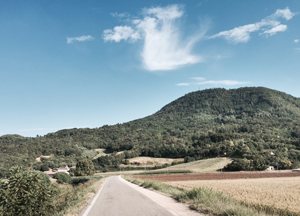 Italy has a long tradition of forestry management going back before Roman times, and ancient traditions very much influence Italy's woodlands today.  For example, 40% of Italian wood production is chestnut or beech which, along with oak, would have been dominant species for the Romans.  There are also lots of non-timber forest products that are important to Italians such as mushrooms, wild boar and firewood.  Indeed compared to the UK, Italy gets a large proportion of its energy from woodfuel with almost 60% of cut wood being used for domestic heating. Read more…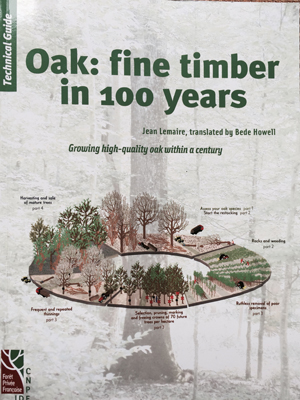 Bede Howell is a massively respected forest manager (and French speaker) who has always taken the long view of British woodlands.  In this new book, Bede both learns from the experience of others and shares it – he has translated into English Jean Lemaire's brilliant book on growing oak for timber.  Oak trees are easily the most important broadleaves in Britain and occupy about 9% of the forest area but typically rotations have taken 150 – 200 years or more to maturity but with wise planting and management this book, "Oak: fine timber in 100 years", shows how good quality timber can be grown in about 100 years.
"Oak: fine timber in 100 years" uses every possible way of getting its message across – text, photos, diagrams, charts, graphs, tables, maps and sketches.  Read more…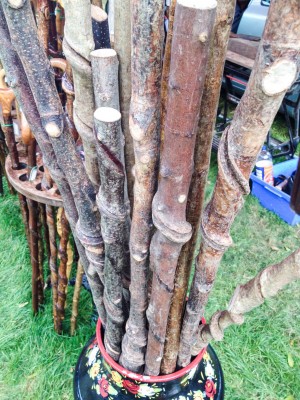 Peter Jones and his sons make walking sticks on a serious scale using sticks they come across in the woods, where they do their forestry work.  They use chestnut, silver birch, oak and hazel.  But they avoid using willow, as it goes brittle once it's aged.  Apart from finding the right stick to work on they need a steamer for bending the tops of the walking sticks and a good supply of sealant and varnish for protecting the finished sticks.
"Honeysuckle makes the best twist sticks" advises out Peter Jones, who comes across a lot of twisted stems in Kent and East Sussex.  As a result, he is able to trade these with fellow stick makers in more northern English areas – they give him carved tops for walking sticks in exchange for good twisted shanks.  But even among twisted sticks there is variety: the slower growing trees such as holly and oak twist more slowly whilst the fast-growing chestnut twists quickly.  Though he also corrected me pointing out that the maker of walking sticks should really be called a "stick dresser" Read more…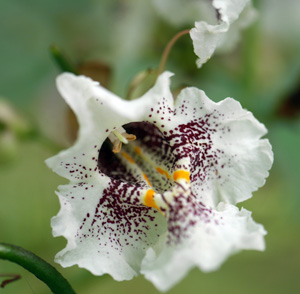 When in Oxford, it is always a pleasure to visit the Oxford Botanic garden but until now I have never made it out to its 'satellite' – the Harcourt Arboretum.  The arboretum is only some six miles away, near the village of Nuneham Courtenay (on the A4074).
The 'core' of the arboretum is the Pinetum (associated with William Gilpin 1762-1843), where mature monkey puzzle trees and giant redwoods can be seen.   The grounds are extensive including native woodland areas and a  considerable area of meadow (together, these would have originally formed an impressive entrance to Nuneham House).  Read more…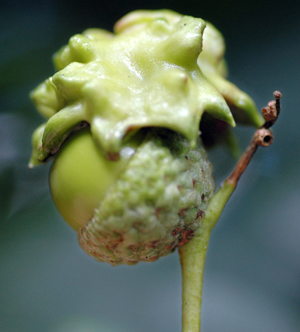 What is a plant gall?   As with most things, opinions vary but one of the definitive books on the subject by M. Redfern and R.R. Askew "Plant Galls" *offers the following description:
"a gall is an abnormal growth produced by a plant under the influence of an organism …… ; it involves enlargement and proliferation of plant cells which provide shelter and food for the gall maker.  Read more…
Subscribe to our blog email updates