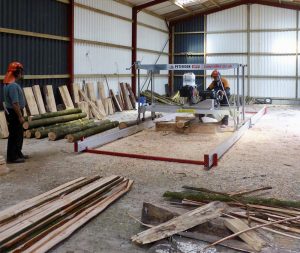 In these days when just about anything is available, delivered to your door with just a few taps on an app, I have introduced my own delivery service for some of our woodland owners – delivering to their woods rather than their homes.   The product or maybe that should be by-product, is sawdust, all neatly bagged up and deposited where it is most needed namely close by their composting loos. Not the sort of thing that is going to qualify me for a slot on Dragons Den, but satisfying in that (a) a "waste" product is put to good use and (b) the woodland owners are very appreciative.
How did it start? Read more…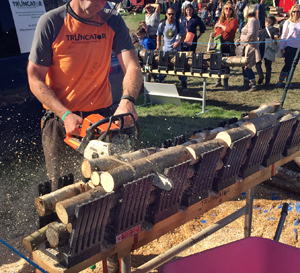 The worst thing about cutting logs with a chainsaw is all the bending down and picking up, stacking and generally time spent not actually cutting. Richard Bowness and Steve Tonkin have solved the problem – they make a sawhorse with a set of ingenious "cups" that space out branches for cutting and holding the cut logs. There is a hinge so that the cut logs can then be tipped into a wheelbarrow.
"Actually," explains Steve, "the name 'truncator' was suggested by our patent agent but it describes well what this device does – helps to cut up trunks and also truncates the task. We make the cups out of recycled plastic from old car batteries: this sort of plastic is particularly strong and doesn't splinter if it gets caught by a chainsaw." Read more…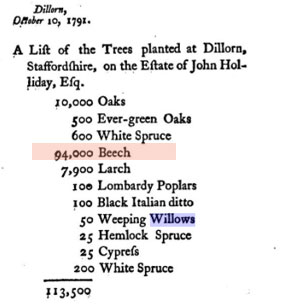 Beech woodland is native to Southern England and Wales (roughly, south of a line drawn from The Wash to the The Severn).  However, in some parts of the country, beech has been planted systematically, for example, John Holliday of Staffordshire planted some 94000 beech in 1791.  Beech is found throughout Central and Western Europe. It is generally found on freely draining (drier) soils (chalks, limestones and light loams) such as found in the Cotswolds, Chilterns and the Downs. Read more…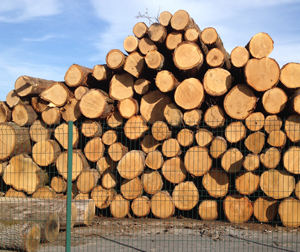 Woodlands get some protection from these "capital taxes" in order to encourage people to invest in forestry and to manage it commercially.  This blog explains in outline how these taxes affect woodlands.  Of course,  income from sale of timber is completely tax free whether the woodland is owned by individuals or held in a limited company, but relief from IHT (Inheritance Tax) and CGT (Capital Gains Tax) is not automatic.
IHT is potentially charged at 40% on the woodland of a deceased owner, though that only applies if the deceased person had assets of more than £325,000.  There is also no IHT charged where assets are transferred to a spouse.  This 40% tax is on the market value of the woodland so one can see that without various exemptions it would be hard to keep woodland in the family and hard to keep rural estates together.  Fortunately for woodland owners IHT can be legitimately avoided, reduced or deferred in three different ways.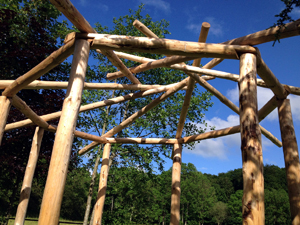 With the henge completed, the next stage of the summerhouse build was to construct the roof. The type of structure we have chosen is a 'reciprocal roof'. This is a simple and elegant roof form which is entirely self-supporting. It is also very strong, making it an ideal base for carrying a green roof since these can be quite heavy.
To form a reciprocal roof, rafters are arranged in a spiral so that each rafter rests on the previous one. The last timber fits underneath the first so that the whole structure interlocks. This leaves a circular opening at the centre, which provides an opportunity for creating a skylight. Read more…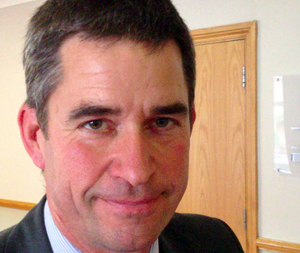 A recent report on "Creating a sustainable future for our woodlands and forests" forms the basis for a new campaign – Grown in Britain.  This campaign aims to promote products grown in UK woodlands, to pull private funding towards British Forestry and to harness the positive energy around woodlands in general.  The Grown in Britain campaign grew out of the 2012 Independent Panel on Forestry and is making a good start at promoting UK timber production.  At a Woodfuel conference (last Autumn) in Surrey Hills , the director of the campaign, Peter Bonfield, joked that this is about being "Grown in Britain" and not about a "Groan in Britain". Read more…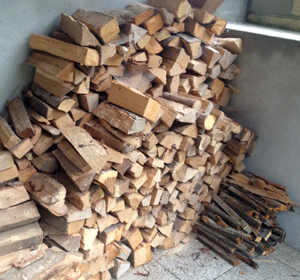 Appearing at the Wood Fuel Conference in Surrey Hills, Matthew Woodcock set out the raw figures showing why he's optimistic that South East England can help to reduce its carbon emissions from fossil fuels.  Mr. Woodcock pointed out that the South East is a relatively wooded region and that a quarter of all England's woodlands are in the South East and they cover over 15% of the land area.  Assuming that two thirds could be got into active management, he reckons that 1,000,000 cubic metres of woodfuel could be produced every year, which would create enough heat for 100,000 homes (or even more if homes were made more sustainable with insulation and similar measures).  The challenge according to Matthew Woodcock is to revive the whole sector – for many years, the south eastern timber industry has been in decline and many firms have gone out of business and even the advanced age of many forestry workers is a serious issue. Read more…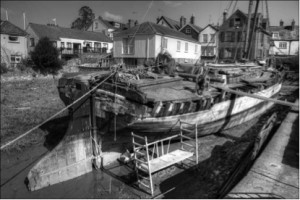 Woodlands.co.uk is helping with the supply of some materials (wood, timber) for the restoration of a majestic Thames sailing barge.   The barge is "The Vigilant", a 109 year old 'Edwardian Lady of the Thames.  It is undergoing a complete restoration at Topsham Quay in Devon.
The object of the project, (which will be seeking help from the Heritage Lottery Fund), is to return The Vigilant to sailing condition,  so that it serves as a living reminder of the part these trading vessels played in the building of Britain.  In its cargo carrying days, it could carry 120 tons. Read more…
Subscribe to our blog email updates