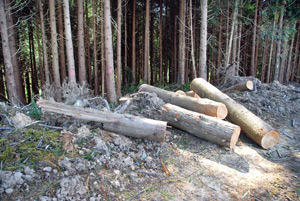 Anyone who has visited one of our woodlands for sale in Devon or Cornwall will most likely have noticed, maybe even sat upon, one of the benches which are a particular feature in the woodlands that my colleague – Stuart Brooking and I,  prepare for sale. Until now, we have bought in the timber for making the benches, from local sawmills – who use only locally sourced materials.
Recently though – through unfortunate circumstances in a way – we found ourselves with a ready supply of timber within our own woods, so we decided to go for a wholly DIY solution for our next batch of benches. Read more…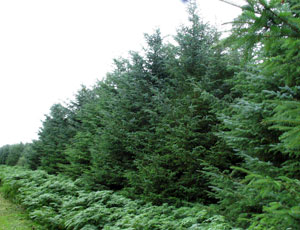 Tilhill UPM manage many large private forestry estates and produce an excellent annual report on the state of the market both for the land itself and forestry products.  Some time back, I  went to the presentation of Tilhill's 2011 Forest Market Report which was surprisingly upbeat.  The main message was that land values are strongly up, forest product prices are strongly up and volumes of land sold, measured by value, are at historically high levels.  Property values have increased about 15% in the year to the end of September 2011, according to Crispin Golding of Tilhill UPM, mainly because:  there is increased demand for land from investors who are tax-driven or who are looking for safe havens for cash, or both; timber prices have gone up principally because of high oil prices and the devaluation of the pound (making UK timber forestry output more competitive with foreign countries including the Baltic States who are enormous timber exporters). Read more…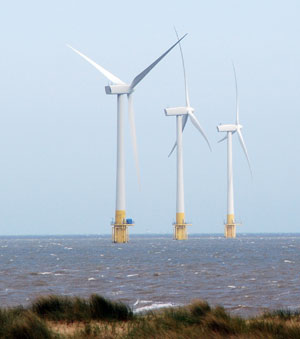 People respond emotionally to wind turbines but seem happy to see their neighbours installing solar panels. This acceptance of solar made me keen to install solar panels at home, which we have just done.
The process has taught me a lot, not least because it showed me how ignorant I was about the economics of domestic energy use – whilst we all know the cost of petrol few of us are aware of the price of a unit of domestic electricity – maybe physical volumes are easier to understand than something that goes down wires and is measured in confusing units.
Our 19 solar panels produce about 3.5 kilowatts, so if our annual production is about 1,000 hours we should produce 3,500 kwH of energy which turns out to be a high proportion of our domestic useage. Many British homes consume about this amount each year, so if I am able keep our consumption down we might even become net exporters. Read more…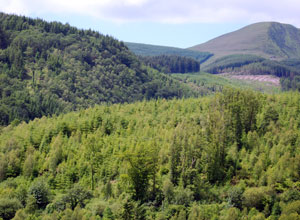 The Forestry Commission (FC) owns and manges over a million hectares of land and so must know a thing or two about UK forestry, and much is revealed in the Forestry Commission's formal accounts. This is a long document, at over 150 pages, but rather than pay £23.50 for it you can get the accounts online for free. Even though it's free many people would consider a set of Forestry Commission accounts to be a tedious read so we've been through them and dug out some interesting material. For example the key figure that the FC expect to pay for woodland management each year is about £72 per hectare or about £29 per acre per year, after taking account of income generated. Our surveys of owners of small woodlands show that they typically spend more than this on a per acre basis, so it is surprising that the report, rather dismissively, refers to strong demand for "hobby woodlands" and environmental ownership" Read more…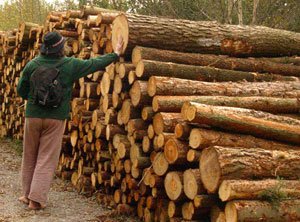 We all sometimes wonder how big a tree is. We can guess the height and measure the circumference, but we really need to know more for two reasons:
we don't want to be ripped off even if we're only selling firewood;
and the Forestry Commission only allows us to fell trees, without a licence,  up to a maximum of 2 cubic metres of wood per 3 month period if the wood is being sold, or 5 cubic metres if it's for our own use *. Read more…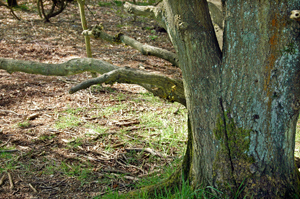 Public access has dominated the debate on the proposed Forestry Commission (FC) forestry disposals, but behind the official documents there are a few less obvious but perhaps important implications:
The government don't really trust the Forestry Commission, DEFRA or even politicians any longer as owners of the forests.  There have been some kind words said publicly about current management but it is clear from what's being proposed that the government want to get this land out of FC hands just as soon as possible.  Read more…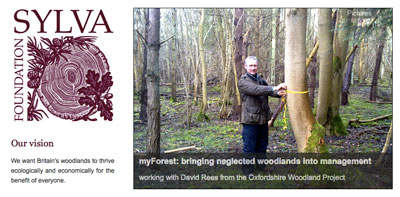 In April this year, the Sylva Foundation launched a new web-based service; myForest.  Interest and support for the service has been encouraging, with some 5300 hectares mapped by 200 woodland owners across Britain, in the first six months.  Quite a large number of these are members of the Small Woodland Owner Group. Read more…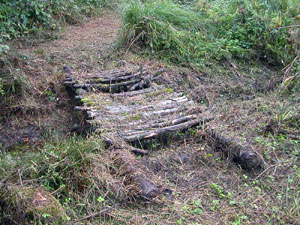 If you are lucky enough to have a brook, stream or river flowing through your woodland, you will almost certainly want to cross it.  Where the water-course is narrow, the banks are low and the water is normally less than welly-deep, then you might be happy to just hop or wade across, particularly if the crossing point is in some out of the way spot. But if the crossing point is on a well used path then a bridge may be needed. Read more…
Subscribe to our blog email updates