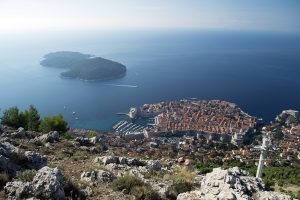 Lokrum Island covers an area of some two hectares and is situated in the south-eastern Adriatic Sea, just a short boat trip from the beautiful old city of Dubrovnik.  Lokrum is mostly covered with thick vegetation. The climate is characterised by dry and hot summers, with mild, rainy winters. The annual average temperature is 16°C and precipitation is 1300 mm.  Plants from different parts of the world have been grown here since ancient times.
The featured image of the blog shows the island, viewed from high above Dubrovnik.
Benedictine monks planted the first vegetable and herb gardens on the island in the 11th century. They also started to introduce some decorative species. In the mid-19th century, Maximilian of Habsburg started the network of paths and planned introduction of plants.  Attention focused mostly on trees and shrubs from similar world climates, such as central Chile, southern and eastern Australia, central and southern coastal California and the Cape of South Africa.  In 1976, the island was designated as a protected "special reserve of forest vegetation", with trees and woody shrubs covering much of the surface – along with succulents (such as cacti), grasses and many other indigenous and introduced species.
Vegetation covers most of the island's surface area and whilst there is some pattern to the planting, it is not at all 'formal', probably becoming less so as the trees have matured. The range of species which can be seen in such a small area is huge, including:
Holm oak (Quercus ilex), an evergreen oak which can grow up to 20 metres high and live a thousand years.
Flowering ash (Fraxinus ornus) is a medium-sized deciduous tree, growing to 15–25 m tall with a trunk up to 1 m diameter. The bark is dark grey, remaining smooth even on old trees.
Laurel (Laurus nobilis), the holy tree of Ancient Rome and Greece, the symbol of fame, wisdom and recognition, flourishes on the island, which indicates a relatively large annual rainfall.
Myrtle (Myrtus communis) is a fragrant, decorative plant with blue berries which doesn't respond well to low temperatures. It's a close relative of the Australian eucalyptuses – of which there are around 70 varieties growing on the island - and its branches were once upon a time used for basket weaving and fishing traps.
Strawberry tree (Arbutus unedo) has white bell-shaped flowers in the autumn and winter. It produces tasty berries, which can apparently render a person unconscious if eaten in large quantities.
Terebinth (Pistacia terebinthus) is an evergreen shrub or tree which withstands heat, drought and salt, and is ideal for planting near the shoreline. It was previously used for tanning hides and dyeing fish nets.
Stone pine or Umbrella pine (Pinus pinea) is a twenty metres high pine tree with a strong trunk, characteristic umbrella top and edible pine nuts. The tree's bark is red-brown and deeply fissured into broad vertical plates
Aleppo pine (Pinus halepensis) was probably brought to the region by the ancient Greeks, and ever since then it has flourished in central and south Dalmatia. The pine forests are beautiful but also, unfortunately, burn easily: burning pine cones can fly through the air for more than ten meters and thus spread the forest fire.
Besides the woody plants which dominate Lokrum, climbing plants such as honeysuckle, ivy, Mediterranean similax and cleavers also grow in the forests.
Some of the Lokrum plants belong to a group of rare and protected species of Croatian flora, including:
Jupiter's Beard (Anthyllis barba-jovis) is an evergreen shrub up to 3 metres high, with silvery and silky leaves and pale yellow flowers with round heads.
Joint fir (Ephedra campylopoda) is a very primitive and sensitive plant with articulated branches which hang from the trees it climbs.
Tree spurge (Euphorbia dendroides) grows in the cracks of steep cliffs. It flowers and sprouts leaves in the winter and during summer droughts completely loses them, which is quite rare for the region.
Stinking madder (Putoria calabrica) is a species growing on steep sea cliffs and walls with small pink flowers in the autumn.
So much to see, but fortunately crammed into a fairly small area and with good tracks, it is easy to walk right around the island in a few hours. And, if all this tree spotting gets too much, a short clamber down the rocks will bring you to any one of a multitude of small, secluded coves and bays for a refreshing dip in the clear warm waters of the Adriatic.
---
---
Leave a comment