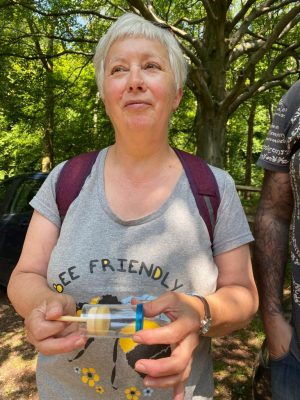 Gill Perkins is one of those people you can't help liking - there's a smile in her voice when she speaks and we found her to be generous with her time and knowledge.  She arrived early for our woodland meeting and had come equipped - a small plastic tube with a plunger (costing about £5) allows her to catch bumblebees as they graze on flowers and she can trap them for long enough to tell us that "this one's a queen of the buff-tailed type and you can see she's very freshly minted as her wings are so undamaged ... a lovely specimen ...".    She releases the bee and it seems quite unphased as it quickly goes back to collecting nectar. Gill loves to get out into the woods and see the bees first-hand - most of the rest of the time she's in her office with the 40 or so staff employed by the Bumblebee Conservation Trust, and despite being the Trust's CEO she's often teaching groups about bumblebees and working with various sponsors including a big housebuilder and a big London law firm.
"All the work is done by the females," she explains neutrally. "The males spend their time getting drunk, sleeping and having sex. Though they do fly some distance away to do the sex because it's better for them to mate with queens from other colonies in order to mix up the gene pool.  There are 24 species of bumblebee in the UK though some of them are recent arrivals like this Bombus hypnorum which came over from France about 12 years ago."  Gill puts British bumblebees in context by explaining that there are three big categories of bee - the honey bee, the bumblebee and the solitary bees.  Of these, the biggest group is the solitary bees where there are about 200 species, but it's the bumblebee that Gill champions.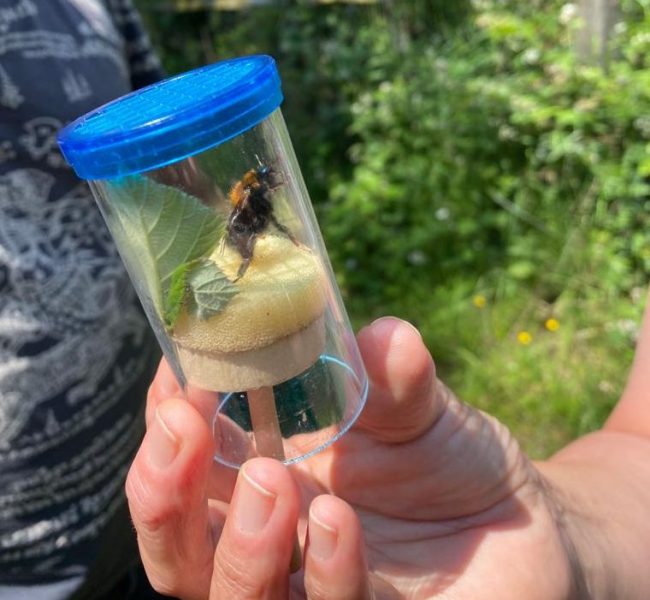 What she wants the Bumblebee Conservation Trust to do is encourage people to improve living conditions for bumblebees - less insecticide, more diversity and wider woodland tracks.  Seeing a clump of foxgloves, Gill rushes off to check it and on one of the flowers she finds a white-tailed worker bee - female, of course.  Bees, like all animals, are vulnerable to predators.  In gardens they are often attacked by blue tits who, according to Gill, will "peck off their bottoms and suck out the nectar, leaving them alive but immobile.  It's a cruel world."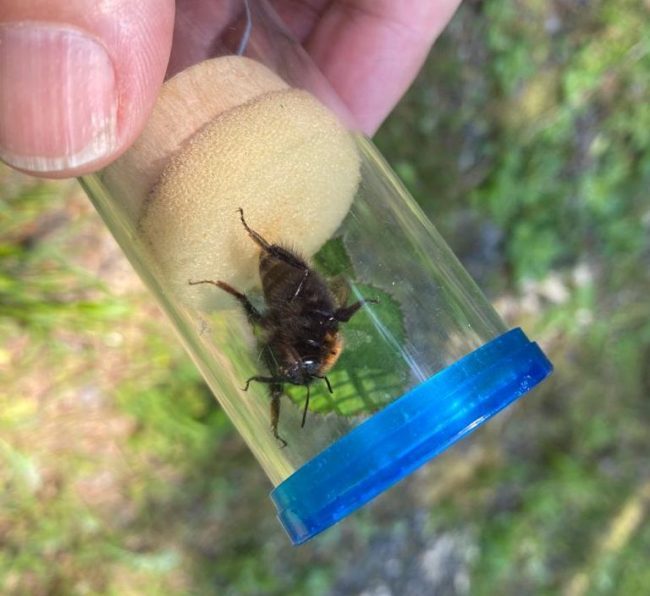 Bumblebees are great pollinators, offering what people sometimes call "ecoservices".   They don't just fly around woodlands but are out there helping the farmers by pollinating tomatoes, peas and apples.  Bumblebees also increase yields in crops like oilseed rape and Gill reckons they contribute over £400 million each year to the UK economy.  The only way to stop further extinctions of bumblebee species is sympathetic land management, the trust argues.  Encouragingly they also say that even small improvements such as providing small patches of flower-rich habitat around the edge of your land can make a big difference.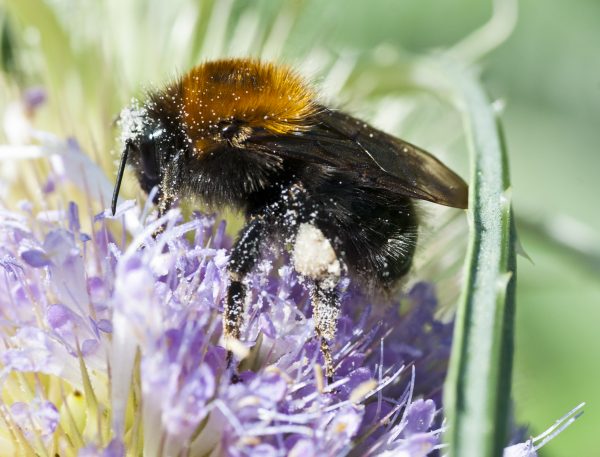 Anyway, Gill's visit left us knowing much more and buzzing with ideas about how to make our woodland more bee-friendly.  In an email after the visit she checked that we'd joined as members - we have!
---
Click on video to play.
---
---
Comments are closed for this post.
---