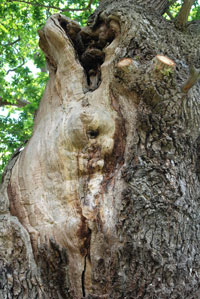 Supported by The Woodland Trust , the  The Ancient Tree Hunt aims to create a database of Britain's historically important trees. We know where our historic buildings are, but we have no proper record of our ancient trees, despite having the largest number of these in Northern Europe.  The Woodland Trust is asking for help from the public to record these venerable relics of Britain's past.How do you recognise an ancient tree?  The Woodland Trust says look at the thickness of the trunk:  an ancient tree will have a very thick trunk – does it take several people to encircle the trunk holding hands?
Visit the Ancient Tree Hunt website to find out how to take part.  You can:  record a tree, make a comment on the tree blogs, volunteer to help verify submissions, or take part in a local event.  The site also has interesting examples of ancient trees and an interactive map to find recorded examples near you.  Younger tree hunters have their own junior section.
An oak at 400 years old would have been a mature tree at the time of the English Civil War.  Yews are even more long-lived, up to 1,000 years.  Ancient trees are often a focus for local history, and there are usually stories, myths and legends surrounding them.  Not only are ancient trees living links with our history; they are also important ecosystems, supporting a particularly wide variety of flora, fauna and insect life.  The Woodland Trust estimate there may be as many as half a million unrecorded ancient trees, so if ever you needed an excuse to hug a tree….
---
---
Leave a comment