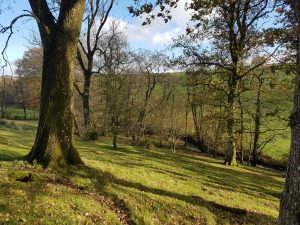 During the last Ice Age, much of the UK was covered with a layer of ice up to kilometre deep, or by enormous glacial lakes. Certainly in northern parts, there was no vegetation as glaciers scraped their way across the landscape.  So much water was locked up in the glaciers that sea levels dropped dramatically; we were connected to Europe by areas such as Doggerland.  Details of the glaciation and its effect can be found on the BRITICE site.  When the ice age came to an end some eleven thousand years ago, plants, animals and humans migrated back to the previously frozen and inhospitable land.  Over time, large forests and woodland areas developed.  In the North, boreal forest grew up - represented today by the remaining Caledonian Forest.  Further south, there was the wildwood (as described by Rackham and others). The wildwood was probably a complex and tangled mixture of different trees, with many of the trees either dead or dying through the effects of wind, fire (lightning strikes) and flooding. It would have offered a vast variety of habitats and niches for plants, insects and mammals.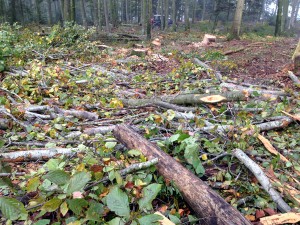 Now the area covered by woodland is low - approximately 13% of the total land area of the UK; a marked contrast to the percentage cover when the climate warmed after the last ice age.  This change can largely be attributed to human activity.  The demand for wood over the subsequent millennia has meant trees have been felled and used for  a variety of purposes, such as fuel, housing / shelter, building ships, furniture, utensils and mine props.  Many areas were cleared to create fields / pasture for cows and sheep to graze.   These animals have a 'knock on' effect in that they prevent woodland from regenerating as they eat saplings before they get a chance to establish.
Recently, the distribution of trees throughout England and Wales has been studied intensively through analysis of high resolution of aerial photographs and terrain maps using an algorithm that distinguishes trees from other objects.  As a result Bluesky International and Esri UK have produced a national tree map.  So far, they have detected some 400 million trees - but there are more to find
The map throws up an interesting finding - notably that towns and cities 'beat' the countryside in terms of tree cover!  Indeed, the London boroughs of Croydon and Camden were among the top twenty places with the most tree cover. 
Tree-lined streets and garden trees help push up the percentage in many urban areas.  Some parts of south east England were grazed by sheep in the past but as this type of farming has become less profitable,  so significant areas of pasture / heathland have reverted to woodland. Some rural areas had very low tree cover, for example, parts of Lincolnshire around Boston and The Wash.
Intensive farming helps explain some of these low rural rankings.  Even parts of the Yorkshire Dales National Park and the Lake District had low tree cover.
Trees and green spaces (such as parks and gardens) are important in terms of peoples well being and general health.  The importance of access to such spaces has been highlighted during the Covid pandemic.  Trees also play a number of rôles in urban areas as they help improve air quality, and reduce air and noise pollution.  Last but not least, they increase biodiversity by their presence and the wildlife that they support.
Some the maps generated by this 'national tree map' initiative can be accessed on the BBC site : here 
---
Thanks to Art Symons for featured image.
---
Leave a comment
Subscribe to our blog email updates
Managing Your Woodland for Wildlife
A new book on encouraging biodiversity in your woodland. Available free here »