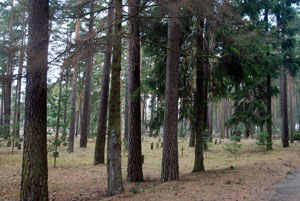 In the UK, we tend to think of woodland burials as a very informal and personal thing. On a recent trip to Sweden, I visited a woodland graveyard at the other end of the scale.
Skogskyrkogården on the outskirts of Stockholm is vast; you have to be there to truly appreciate the sheer size of the place. Established in the early 1900s it is completely unlike any other cemetery before it. So much so, that it is considered one of the most important creations of modern architecture – and as such was added to UNESCO's World Heritage list in 1994.  The graves are for the most part low and simple; the natural surroundings – typical Nordic forest of mainly conifers and birch – are the centrepiece, not the monuments.
Among the many fascinating features of Skogskyrkogården are:
Five chapels and an outdoor ceremonial area, between them catering for about 2,000 burials each year
Seven Springs Way: a 900 metre long path through the woods, leading mourners to the Chapel of Resurrection
Almhöjden: a meditation grove which is reached via a long stairway. The steps gradually lower in height, easing the climb to the grove of elm trees.
The raw, undressed limestone wall which surrounds the cemetery and which is 3.6km in length
The main entrance with its twin lime tree avenues which lead towards the woodland crematorium and the three chapels Faith, Hope and the Holy Cross.
My impression prior to my visit was that something of this size would by its very nature be rather impersonal and formal, yet the individually tended, simple memorials – many with candles flickering – are actually very intimate in their woodland setting.
You can read more about the woodland cemetery at www.skogskyrkogarden.se, which includes an English language option.
Below is a selection of images from my visit.
---
---
Leave a comment