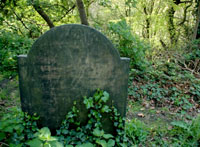 "Green burials" of various sorts are increasingly popular - many people want to escape from what they perceive to be the conveyor-belt experience of some crematoria and the impersonality of cemeteries and churchyards. Many people also find established funeral rituals are not right for them. More positively, woodland burials or green burials are seen as friendlier to the environment and more natural than cremations.So, if you have your own woodland and you plan to keep ownership in the family, requesting to be buried in the woods can be very appealing.
What are the practicalities of a green burial?
Burial or spreading of ashes in your own woodland will not usually create any problems. In the case of the burial of a body, the Environment Agency advises in its document 'Funeral practices, spreading ashes and caring for the environment':
• The site should be more than 30 metres from any spring or any running or standing water. It should also be more than 10 metres from any 'dry' ditch or field drain.
• The site should be at least 50 metres away from any well, borehole or spring that supplies water for any use. If you are not sure where these are, our local office will be able to advise you.
• When preparing the grave, make sure there is no standing water when it is first dug and that the grave is not dug in very sandy soil.
• There should be at least one metre of soil above and below the body after burial.
If you are burying a body, rather than burying ashes from a crematorium, the hole you dig needs to be quite deep.Ideally it should be two metres, which will take quite a while to dig – you probably need to leave at least half a day.You can alternatively use a mini-digger.
Do I need special permission for a green burial?
You do need permission from the owner of the land, but you don't need to obtain planning permission or to contact the local Environmental Health Officer or the Department of Health or the Environment Agency.
Where can I put a grave?
You should be practical in deciding where you want to dig the grave – sandy soils can be dangerous to dig to any depth and you probably don't want any live burials! Rock is obviously a problem and digging too near to big trees will be difficult because of their roots. Many people find that being so much involved in the practicalities helps with the grieving process. It is advisable to keep a good record of where the burial site is located and keep the record with the paperwork for the property.Many people like to plant a memorial tree next to the grave, which is also a good way to record where the body is.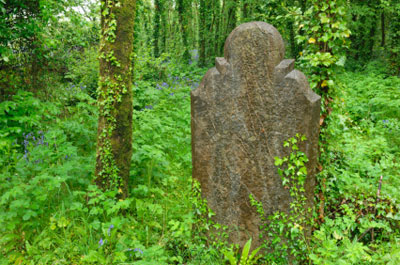 How much does a green burial cost?
Green burials vary enormously in cost - from about £200 to about £2,000, but the average cost is about £700. What should you put the body in?You can use a traditional coffin which a few undertakers will sell direct to you or you can buy a cardboard coffin for about £60- £90, but many people like willow coffins.These can be found by googling "willow coffins", and cost about £450 to £550.Bamboo coffins are also available. Of course, these alternatives can also be used for a more traditional funeral.
You may find that in exploring beyond the standard options of cremation or burial in a cemetery or churchyard, many people will try to talk you out of the alternatives, but there is a trend towards publicly available green burials as the following figures demonstrate. Today there are about 200 green burial sites, ten years ago there were only 50, and twenty-five years ago only one such site. Of these sites well over half are run by local authorities, a few by charities and about 60 by farmers or businesses.
Have you buried a relative or friend in a green burial? We'd be interested to hear your experiences. Have you any questions or comments to add below?
---
---
Leave a comment