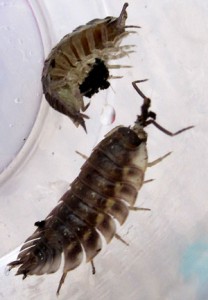 Woodlouses or woodlice have never previously seemed to me the kind of thing you would want to eat. But I came face to face with a cooked woodlouse recently when we made a woodlandsTV film about finding, cooking and eating woodlice. It turns out that they are very nutricious and as long as they are cooked they are perfectly safe. A big advantage of woodlice over slugs or snails is that they can be eaten almost immediately after collection, whereas with slugs and snails you need to put them in a plastic bag for about 24 hours so that their gut empties. For woodlice you just put them straight into the boiling water and they are soon ready to eat.
In terms of animal classification, woodlice are very near to saltwater prawns - they are crustaceans and belong to an order called the Isopoda ("same feet"). Worldwide there are 3,000 different species of woodlouse but only 40 of these are found in the UK; and the ones you are likely to come across will be from one of just five species. The 5 species that you are likely to come across  (throughout the British Isles) are :
They all seek out damp and dark conditions so the easiest way to find them is to look under stones and dead branches. We found most of ours hiding in an old tree stump.
Once we had gathered a good collection, we boiled up some water and then tipped in the woodlice where they died quickly. As they cooked their undersides went white but we kept them in a little longer as it is important to cook them for long enough to kill harmful bacteria. After just a couple of minutes, they seemed to be well cooked and ready. Using some pine needles as a sieve, we strained off the boiling water and I prepared myself for tasting my first woodlouse.
"Try one, they're lovely" said our tutor, Sean Collins. I bit into mine and found it really surprisingly edible. Not a particularly strong flavour but quite like a tiny shrimp: it's a bit crunchy but that's the shell effect (Arthropods have an exoskeleton to which their muscles attach - whereas we have an endoskeleton for the same purpose). I wouldn't describe the two I ate as filling,  but then they have the advantage that they are easy to gather and a ready source of protein.
Woodlice are called many different names. In the United States, they are usually called pillbugs which is perhaps because many species roll up into an almost spherical ball as a defensive measure and look like small pills. Around the UK,  they have various names, being called cheesy bugs in Kent, cheesebugs in Berkshire and gramersow in Cornwall. They are also sometimes called potato bugs, wood bugs, chucky pigs and roll-up bugs. The sub-group or genus of woodlice which roll up into a ball is the Armadillidium .
You can find the film we made about cooking and eating woodlice here:
www.woodlands.co.uk/tv/2011/12/how-to-cook-wood-lice-bushcraft-skills/
Comments are closed for this post.
Leave a comment
Subscribe to our blog email updates
Managing Your Woodland for Wildlife
A new book on encouraging biodiversity in your woodland. Available free here »