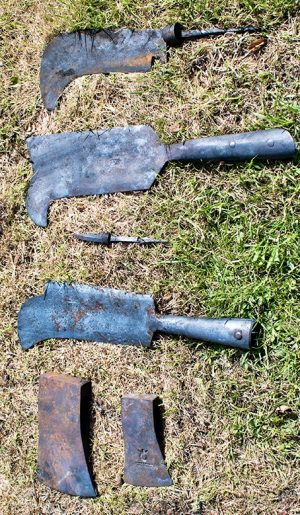 About 2 months ago, mid-lockdown, I had a major calamity: my outbuildings burned down (see image below), cause unknown although the fire brigade investigating officer suspected a carelessly discarded cigarette butt (the buildings back on to a road).  Although it was originally a stable block, built by the previous owner of the property, I used it as workshop / equipment store / timber store. Everything went: trailer, wood-chipper, ride-on mowers, chainsaws, brush-cutters ….  Even now, after 5 A4 sides of contents lists for the insurers, I am still remembering other things that were stored there.
After a couple of days wandering aimlessly around the wreckage, looking at a heap of ash and cinders which had previously been a stack of oak boards that had been seasoning for about 3 years, I started 'tidying up' – shovelling the ash into heaps and sorting the remains into separate stacks: wood, metal and other / unidentifiable.
Things started to emerge from the debris, battered and a bit stained but still in one piece, among them the metal parts of long-cherished hand-tools: bill hooks, axes, carving knives. It would have been easy just to chuck them on the metals heap and buy new ones, but some of these items were very dear to me; I have been wreaking havoc with my Yorkshire pattern billhook for almost 40 years!
I contacted an acquaintance, Andy Morton of Sallerton Wood. Usually Andy divides his time between building timber-framed structures and running his award-winning green woodworking courses. Because of lockdown, both these activities were on hold, so I asked him if he would have a go at re-handling the tools for me. He agreed and, as an added bonus, he told me that a workshop neighbour of his is a blacksmith who could re-harden the metal and put an edge back on the tools.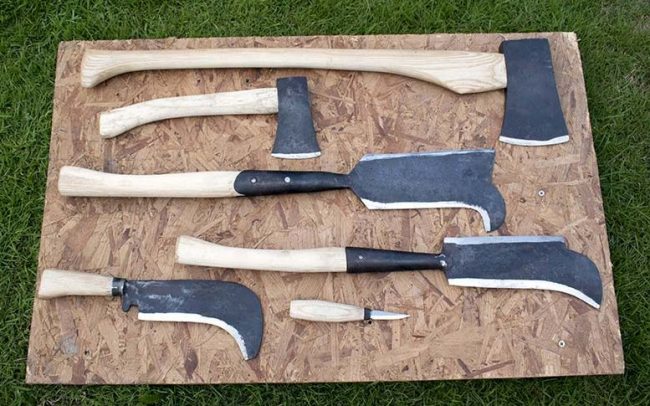 Although one of the blades didn't respond well to the re-tempering process – it shattered – the others came out just fine, meaning that all I need to replace is one push-knife and the whole thing costing me around half of what a new set of tools would have.   So, rather than contributing further to the throwaway society, my dear old tools have been given a new lease of life; a quick splash of linseed oil on the handles and a few turns of fluorescent orange tape around them – so I don't lose them in the undergrowth – and they're as good as new.
---
---
---
---
Leave a comment