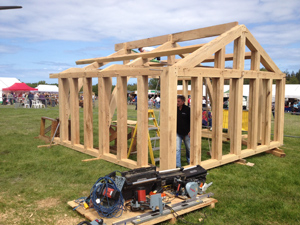 "If you're doing an extension, a timber-framed building is much nicer than an Everest job - and cheaper too," claims Russell of the Oakframecompany.co.uk. Based in Kinmel Bay, North Wales, the company has been putting oak buildings together for over 25 years and has recently expanded into a new, larger factory.   Oak beams are their thing - from putting a beam over a fireplace to building five bedroom houses and even putting up small office blocks. The advantages of timber-framed building are that it looks and feels good, it makes a much less heavy building and it is more flexible.
While they used to import their oak from France, the Oak Frame Company is now using locally sourced oak and most recently has been buying it in from an estate in Ruthin in North Wales. Buying direct from the grower/estate owner means that their timber is cheaper but also they can control quality better. Apart from doors and windows, all the oak they use is "green oak" meaning that it isn't fully dried out but it will usually have been about a year between felling and use in construction, so it will have had some time to be somewhat seasoned. Construction is done in the factory and a building is pre-assembled, disassembled and then rebuilt onsite. The photo shows a large extension which would cost around £15,000 (very roughly) including roofing and glazing. All the fixings use traditional joints and are fixed not with steel but with oak pegs, which are usually left sticking out but some customers prefer them to be cut flush with the oak beams. Some woodland owners have been known to use oak from their own woodlands for building their own houses, garages or extensions which must be very satisfying.
Once your oak building is finished it will be coated with oil to protect it and bring out the colour and you can re-oil it every couple of years or just allow it to age gracefully as it becomes a silver-grey colour. The building should last for many decades but as Russell points out, for the first 10 years everything is guaranteed by the Oak Frame Company including the windows and doors.
Because so much of the construction is done off-site Russell and his CEO, Simon Belfield, can supply to anywhere in the country and they have found their main market recently is the Cheshire area. Getting planning permission is up to the customer but planners have in the last few years been much keener on these "vernacular" buildings. For building control purposes you will need a structural engineer's report with calculations but you can get the Oak Frame Company to organise this for you.
---
---
Leave a comment