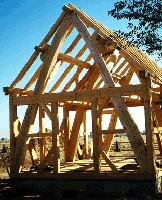 A cruck frame is one where the structure of the building depends on two or more 'A-frames' which go from the top of the building down to the ground.  These frames are usually constructed of curved timbers (the cruck blades) using the natural shape of a tree and in many cases the tree is sliced long-ways down the middle so that whatever the shape of the curve the two sides are symmetrical.  The two beams are joined together at the top by a 'collar' or tie-beam.
Cruck barns probably evolved in Anglo Saxon times and the earliest archaeological evidence comes from 4th century excavations in Buckinghamshire, but this building technique really came into its own in medieval times. Large halls were built in towns and villages and a large cruck barn also became a sign of an individual farm's prosperity. The barns could be easily divided into sections or bays and threshing would have been done indoors.
By the eighteenth and nineteenth century, cruck-framed buildings were in decline both because of the success of box framing and because they used so much timber.  Farm modernisation also reduced the need for indoor threshing areas.  The box frame as an alternative had also become popular for residential buildings because it allowed the building of second and third floors and, being a square construction, made more use of town-centre space above the ground floor.  Box framing also made it much easier to add extra wings to a building.
The inverted 'v' shape has the advantage that the roof load is carried directly to the ground so that the wall frames can be made using a lighter construction and the walls also use the cruck frames for support.  In medieval times the timber would have been felled using a two man saw and axe and then squared up with an adze. The procedure for construction would usually involve assembly on the ground and subsequent erection to a standing position. Once this is done the heaviest part of the operation is complete.
There are various types of cruck frames.  Most seem to start at ground level whilst others start just below the wall plate level (raised cruck frames). In some constructions of wider buildings the frame starts at ground level but finishes at the collar which is a piece that joins the two cruck blades and this collar then supports the main roof timbers.
You can see cruck framed buildings in many parts of the country but one well-known example is the Herefordshire Cruck Barn at Avoncroft Museum in Bromsgrove (www.avoncroft.org.uk).  There is also a reconstructed cruck barn at the Greenwood Centre in Coalbrookdale near Ironbridge, Shropshire (home of the Small Woods Association).
If anyone has had experience of constructing a cruck frame structure or knows of any interesting examples of cruck barns or cruck houses - please tell us about it in the comments section below.
---
---
Leave a comment