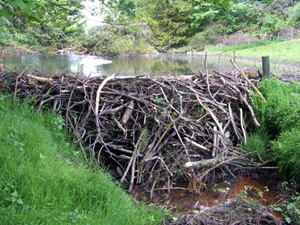 Having been flooded out of my house ten years ago, due to a flash flood, I know that the pain and sadness of flooding is immense.   My heart goes out to those who are battling the rising water levels caused by some of the most extreme weather for a century.   It's not surprising that in their anger, people are lashing out at the nearest targets.
Not enough dredging ?   Dredging isn't the answer.   Increasing the capacity of the river channel by a small amount is not going to contain the huge extra volume of water spreading across the floodplain.   And it will probably just dump the water on someone else downstream.
The answer lies, as people are starting to slowly realise, with increasing the roughness of the upper catchments.   British and European policy for decades has been to smooth out the uplands to make it easier and more productive for agriculture.   Land has been drained, streams straightened and channelled, rivers canalised, woodlands felled, hedges pulled out and a smooth monotonous landscape created, appreciated only by sheep, shepherds and the Tourist Boards.   Farmers are now paid their Single Farm Payment, by far the largest of the subsidies, so long as the land is free from 'unwanted vegetation'.   So they spend a lot of their time, not farming but making the hillsides even smoother.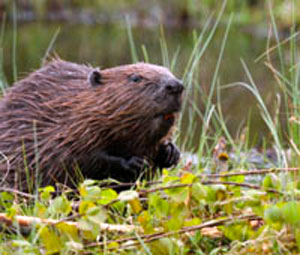 Even less capable of holding back water and allowing it to percolate back down into the soil, to be released slowly, filling up the aquifers and reducing the peak flows.
What is needed is more ponds, wetland, woodlands, meanders, ox-bow lakes and scrub vegetation in the uplands.   And beavers !   Beavers are wonderful hydrologists and will build dams, creating ponds and wetlands and forcing the water to flow more slowly.   This can improve fish stocks and hugely increase biodiversity.   There are over 200 beavers now living wild in the Tay system as well as an official trial in Argyll.
So, let's get busy reforesting and rewilding the uplands, thereby protecting the poor people in the lowlands.
Donald McPhillimy
---
---
Leave a comment