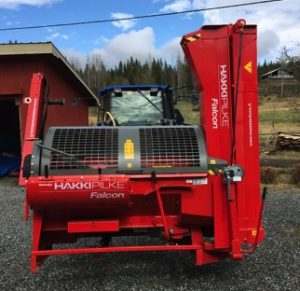 When I first moved to Sweden, friends from the UK sent me countless books and magazine articles on the culture and tradition of the log stack. How I would become fanatical about length, order and symmetry of my log shed and how by the end of spring I would be  fitter than at any time of the year. Each year the first job of spring time as winter crawls back is to sort out your log store for the following winter. Living in the Northern part of Sweden, winter is a big thing.  Logs are like currency and timing seems to be everything.
You need to cut your timber, and as silver birch makes the best logs for us, its in the depths of winter when the tree isn't drawing water. Or you need to order the amount you need and get your order in early enough to ensure you'r at the head of the line and yours is cut in the dead of winter.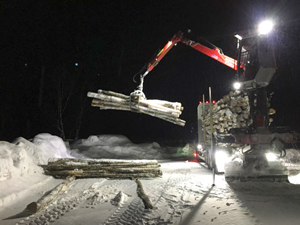 The timber lorry unloads and you can either look at the stack with dread or you can tool up. Between my neighbour and me we burn over 40 cubic metres of logs a year and one of the best investments Ive made to our life in Sweden was to buy a firewood processor.
I inherited a small processor from the previous owner of the house and managed to bend it in half during my first year. So when looking to buy, the advice I can give is to buy a bigger and more powerful one than you need and only run it at 85% capacity. Doing this, means it won't block or break and should last a life time with servicing and care.  I managed to find an ex-demonstrator which meant I saved the VAT and delivery charge and took ownership of a very red nearly new Hakki Pilke Falcon wood processor (see featured image - top right).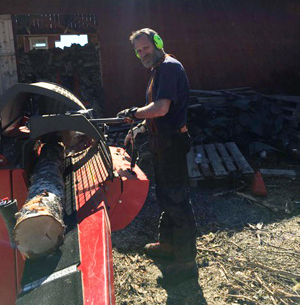 To explain what this machine does is to short change it but here goes.
The length of timber enters via a driven belt to a preset stop. A chainsaw cuts it dropping the round log into a valley. It is then pushed through a cutting blade splitting it into 2 or 4 logs. A second conveyor transports the logs onto your pile ready for stacking.   Apart from lifting the "sticks" onto the first conveyor and moving a joystick to control, chainsaw, ram and conveyor - it is fully automated. With my daughter stacking I was cutting well over 1 cube an hour and with my neighbor working the processor whilst I loaded the first conveyor this increased to 2 cubic an hour.
The processor didn't miss a beat, get a sore back or stretched elbow and the constant noise of rams, chainsaw and drive conveyors is soon forgiven as you see the amount of logs you can produce.  I am sure those who read the great book "Norwegian wood chopping, stacking and drying" by Lars Mytting are thinking I'm missing the satisfaction of wielding an axe. With over 20,000 logs cut - trust me I'm not.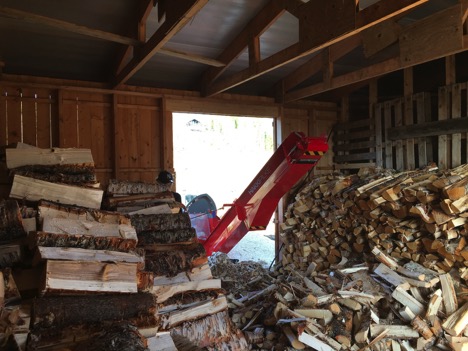 Whilst everyone who owns a wood or has a wood fired heating system doesn't need such huge amounts of logs as we do each year,  I really recommend tooling up if its only with a mechanical splitter of some kind and a decent log bench. With log production,  tools and machines really do make a difference.
Everyone says you need to do your logs by mid summer and have them stacked in order for them to dry before the next winter. Rather smugly mine were done in a week and I can now relax with a cup of tea and enjoy the sounds of Spring.
---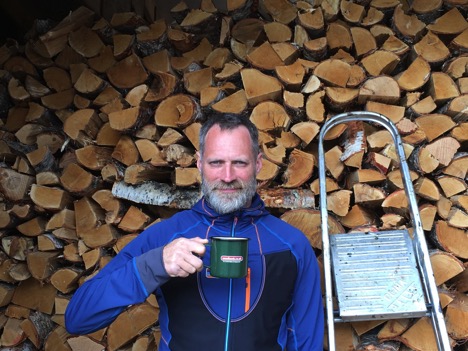 ---
---
Leave a comment