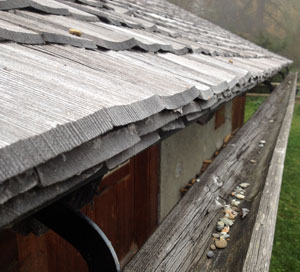 Making gutters out of wood was traditional in most countries before the widespread use of metal and plastic made these a rarity.   But some people still use them to keep buildings looking as they would have been in the past and, actually, they work very well.  Certain woods work better than others - for example Scots pine, sweet chestnut and elm.  In Germany and America, pitch pine (Pinus rigida) was widely used for wooden gutters because of its high resin content.
The photos here illustrate a Swiss building where gutters were needed on the front to protect the patio area and the doorways - whereas at the rear of the building the roofs drain directly onto the soil.  The roof of this building is made with wooden shingles and it is certainly watertight and the roof appears in good condition.  Although the gutter is only teated against woodworm, often wooden gutters are protected by re-oiling the inside - painting inside the gutter is not recommended as it takes the wood longer to dry out and rot will set in more readily.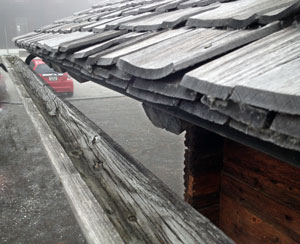 Such gutters can have a lifespan of 60-70 years before they need to be replaced.  Sometimes wooden gutters are lined with lead or bitumen.
If you are looking for a supplier of wooden gutters in the UK you can find a list on
http://www.greenspec.co.uk/rainwater-goods.php#wood
A typical cost of replacing wooden gutters might be £15 per metre for the material but £40 to £50 per metre with fitting.  If you have your own woodland you may well be able to get material from your own trees, with Scots pine probably the most likely to be available.  Scots pine is sometimes described as an "honorary hardwood" in that, though it is a softwood, it grows slowly and is a tough, resiny, close-grained pine.
For downpipes there are solutions using wood but often on vernacular buildings, such as the one shown, the water would just drop out of the end of the gutter well away from the building.  An alternative solution is to put a chain on the end of the gutter either to a soakaway or to a collecting barrel - it is amazing how the power of water tension keeps most of the water to the chain even in a serious downpour.  Wooden gutters have the added advantage that when you replace them the old gutters are easier to dispose of than plastic ones.
Leave a comment
Subscribe to our blog email updates
Managing Your Woodland for Wildlife
A new book on encouraging biodiversity in your woodland. Available free here »