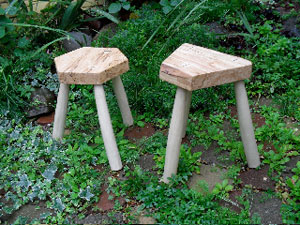 Our weekend at the woodland skills centre was an immensely satisfying experience. We attended the green woodworking course, spending 2 days making a three legged stool, learning in a process a number of techniques. We began with the raw material, having to split ash logs with a froe, before roughly shaping them with an axe.   The next task was to make a straight cylinder using a draw knife and a shave horse. Learning how to use the draw knife was a challenge, as it involved developing an awareness of the grain of the wood we were shaping. Knots presented the biggest problem, so it's important to choose the right piece of wood to begin with or it'll be unnecessary hard work.
We then had to shape the cylinder into a tapering stool leg with the last 3 inches exactly 35 mm in diameter, so this involved precise and careful work. I was surprised to find that a whole day had elapsed by the time we had all made our legs. I found it quite meditative working away surrounded by woodshavings, with the woods outside and the wild autumnal weather.
The next day we spent making the stool seat, from  beech with a beautiful texture created by a harmless fungus, whose name I forget. Lots of sanding, then drilling the holes to take the legs. These had to be precisely at the right angle, so we had to be very careful. We even had to make our own seasoned oak wedges to fix the leg ends tightly in the holes. The result is a robust piece of furniture that will last a lifetime.
Because the group size is kept small, we all got plenty of one-to-one  tutoring. All in all we found the course inspirational and great value for money. I can't wait to get out into the woods and start making, but I need a few more skills under my belt; I'm looking forward to making my own pole lathe, as well as my own flat-pack shave horse, and I'd like to progress to the next step, a chair with a back! Fortunately all these skills are taught at the centre, along with many others, so I can't wait for next year's program to come out.
Many thanks to Woodlands for their grant to pay for the training.  It has made buying a small piece of woodland much more than a financial transaction. Woods are to be enjoyed and looked after, and this for us is a lifelong commitment.
Leave a comment
Subscribe to our blog email updates
Managing Your Woodland for Wildlife
A new book on encouraging biodiversity in your woodland. Available free here »