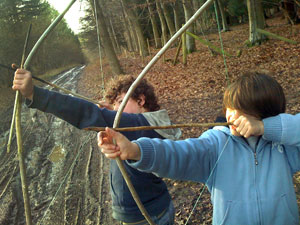 Archery is exciting - the pull of the arrow, taking aim and the "thwack!" as the arrow hits its target (if it does). We have made a film of serious archers which you can see on woodlandsTV here.   This is not something one can try without proper advice and training - and some expensive kit. However many people just want to have a bit of fun and we have recently explored two ways of firing arrows in woodland.
Do it yourself "Swallows-and-Amazons" archery with hazel and string
You will need to cut rods which are flexible, strong enough and not too heavy. I usually use hazel and I also make the arrows out of smaller hazel shoots. Tying the string is much easier if you cut a notch in the bow where you want it to go so that it doesn't slip down the bow. The arrows will need small notches cut out of their ends so that the string will wedge into them, and of course at the other ends you will have fun sharpening the tips with a pen-knife.
Affordable bows from Decathlon
We bought our equipment online where a bow and target together cost under £40 (Geologic Startech bow). These are surprisingly powerful and it reminds you how important it is for everyone to stand behind the person using the bow and for the bowman to be able to see clearly where he or she is firing. There is quite a lot of technique using such a bow effectively. Without that you will get very sore fingers and keep missing the target. One nice thing about the arrows from the shop is that they have fluorescent ends so that you can find them when they (inevitably) go astray.
---
---
Leave a comment
Wild Flower Guide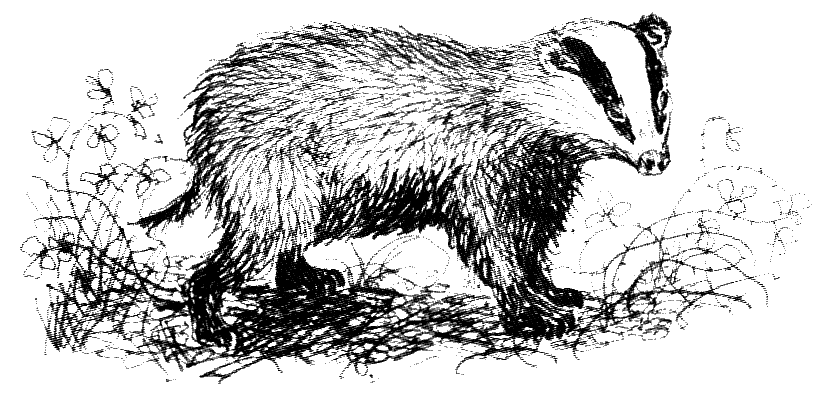 Topics
Tags
Managing Your Woodland for Wildlife
A new book on encouraging biodiversity in your woodland. Available free here »