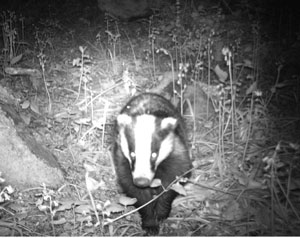 There is a lot going on in the woods which you don't see. Well, I don't see it anyhow. I clomp around in my big boots, singing little ditties, letting my dog roam free, blissfully unaware of the havoc I am causing. Meanwhile every creature for miles around is bolting for cover, hiding away, disappearing until the danger is past. I guess if I had the patience I could set up a hide and wait quietly.  Might have to tape up the dog for that to work. However, while I have the greatest admiration for people that can sit for hours without even a twitch, I am not one of them.
Plan B then is to set up a camera to keep an eye on things while I am away. A friend of mine, Pete, has lent me a very nice Bushnell Trophy Cam B. http://www.bushnell.com/products/trail-cameras/trophy-cam/ .
This does not look much like a conventional camera, more like a plastic box with some bits on the front.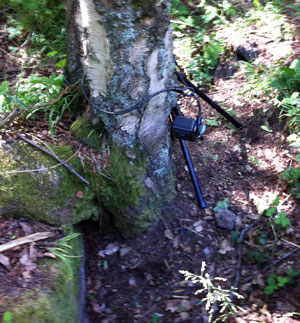 It comes with a nylon strap so that you can fasten it to a tree but it can also be mounted on a tripod. I think it is designed to help with hunting in the American wilderness (they are quite keen on hunting). No hunting for me although it does fine for spotting animals in my woods.
This camera has a motion sensor. So if something pops up in front of it then it gets snapped. You can also set it to take short video clips. Even better, it can take photos at night. Not only does it have an infra-red (IR) camera but also an IR light. This is made of 40 special LEDs which emit IR so they don't scare anything away. Finally there is a hole you can fit a padlock through. I use this along with a steel cable around a tree so that it could not be easily removed.
After a brief scan of the manual I decided to leave all the controls on their default settings and strapped the camera to a tree in front of what might have been a fox hole. Wasn't really sure it was a fox hole but it certainly looked the way I thought a fox hole should look.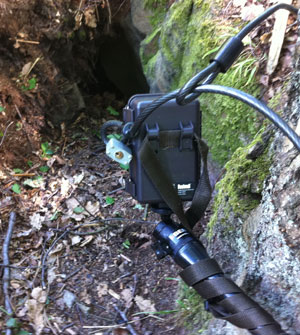 Came back the next morning and was stunned to find some pictures of a fox nosing around. The pictures are not brilliant quality but then I am not in the wildlife film business (apart from featured image above, see small gallery of photos below). For just finding out what is going on they are great. Tried a few more interesting looking holes and was eventually rewarded by getting some pics of a couple of fox cubs.
So now I am getting to leave the camera set up whenever I leave the woods. I usually try and find somewhere that it is not too obvious for anyone passing by. I also try and find somewhere that might be interesting. There is a badger trail in one corner which has been very fruitful. Every couple of nights or so the badger comes trotting past. Naturally I keep coming back to the fox holes and keep a check on my cubs.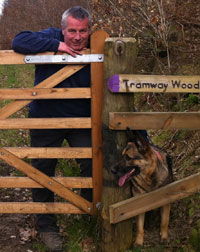 Recently I've been experimenting with leaving bits of food in front of the camera. First time I tried that I got a nice shot of my dog stealing the snacks. I've also been trying to work out the best place to put the camera to photograph the woodpeckers. This is proving a little problematic and may involve clambering around in trees. I've heard them banging away early in the morning but have yet to see one close up.
A final thing I learnt. If you leave the camera fairly low down on a tree near a path. If the path is used by people walking their dogs. You are quite likely to get a picture of a dog 'marking' the camera.


Some denizens of my woodland
---
Comments are closed for this post.
---