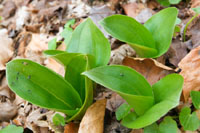 Coppicing is one way of protecting the biodiversity of ancient woodland. Each winter, an acre or so of the woodland is felled, and in the spring a glorious carpet of flowers erupts from what seemed to be barren ground. The next year, too, the flowers may appear, and with them some butterflies and bumble bees enjoying the nectar and the sunshine. But the sunshine also brings out the brambles and bracken and, by the following year, these will have shaded out the flowers. Later in the cycle, the re-grown coppice also shades out the bracken and bramble and the ground returns to its apparently barren condition. So, in order to have flowers and encourage bees and butterflies you need to coppice successive acres each winter, progressively moving over the ground year by year.  But, it's hard work coppicing.  Is there an alternative?
Yes, indeed. Patrick Roper, the well-known Kent ecologist, has said this, "There is no doubt that clearings in woodland, linked to each other by wide rides, are beneficial to many insects, not just butterflies, but this can more easily be achieved without reintroducing coppicing into woodland. It is much more cost-effective, for the purpose of conserving wildlife, to maintain a permanent one acre clearing in every ten acre block of woodland, connected by a number of rides, than it is to perpetually create ten temporary clearings by coppicing to try and achieve the same ends."
Natural England's  Report R627  "The ecological impact of sweet chestnutcoppice silviculture on former ancient, broadleaved woodland sites in South-East England" offers a table of alternative approaches (p92) backed up with lots of interesting research :-
 http://naturalengland.communisis.com/naturalenglandshop/docs/R627%20part%201.pdf
What's your experience?  Have you tried other approaches?
---
---
Leave a comment