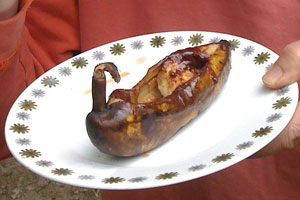 It's often hard to get children to eat fruit. On a woodland camping trip we found a good way to get them eating and cooking apples and bananas. Your fire needs to have been alight for some time: this is usually an activity to do after supper, before the children run off into the woods to finish their den-building or exploring.
Brown and sweet Bananas
The bananas were easiest. You start by wrapping them in kitchen foil and then put them over a hot fire after the flames have died down but while the embers are very hot. As the picture strip shows, we put them on a metal grille. They have to be turned form time to time to make sure they cook on both sides. Once they are done which took about 10 minutes

- but it will depend how hot the fire is - you take them off and open the foil.
The blackened skin can be peeled back with a knife and fork and they can be eaten (you probably cant' eat these hot squishy bananas in the usual monkey style). It's even more delicious if you cut them open while they are still hot and put chocolate inside - you can use squares from a chocolate bar or even a chocolate spread such as Nutella.
Caramelised apples cooked by campfire
This is a bit more involved but worth the effort and you need to have remembered to bring sugar, cinnamon and ideally some Granny Smiths apples. The first thing is to spear the apple onto a strong but sharp stick. You will then cook it over the fire which will make it warm, easier to eat and will loosen the skin.
Once you are happy that it is cooked you peel the skin off. I know they say the skin is the healthiest part but you do want them to eat these (don't you?) and anyway you will want a juicy surface for the sugar and cinnamon to stick to. Next you prepare a plastic bag with the sugar and cinnamon mixed together, using something like 4 tablespoons of granulated sugar and one teaspoon of cinnamon powder. Pop the peeled apple into this bag and shake it around until the apple is coated with the mixture.
Food is always nicer when you've cooked it so the cooking part can be done by the children and adults who are to be the consumers. Finally you re-spear the apple and hold it over the fire but quite close and the sugar will caramelise so that it looks a bit like a toffee apple. If it glazes over you are there and if it goes black you've gone too far.
Finally, finally comes the eating part. Here you and your fellow cooks will need no instructions.
Leave a comment
Subscribe to our blog email updates
Managing Your Woodland for Wildlife
A new book on encouraging biodiversity in your woodland. Available free here »