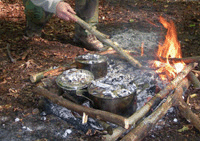 The simplest campfire for your woodlands is made between two fairly hefty logs of wood, preferably cut recently and still "green", so they don't ignite. Between these, you kindle your small dry sticks, and larger dry wood. The kettle or pan should reach across the fire and balance on the logs, but it is much better if you have metal bars to support it. An old oven shelf is ideal.After you have used your makeshift fireplace a few times, you may think that the logs are not big enough to give clearance for a decent fire – perhaps bricks would lift your oven shelf up higher. For the moment, just stack the bricks either side, they don't need cement at this stage.
Much later, or perhaps not so much later, you get tired of grubbing about round your campfire at ground level, and you think "Why not cook standing up?" So you get lots more bricks, and some sand and cement, and you build a fireplace. Same principle – two parallel walls supporting the old oven shelf, but the whole thing standing on a plinth of solid bricks, so the pans are at least 50cm off the ground. It makes all the difference!
Then you find an old table to stand beside the fire. Tables with tubular steel legs (discarded from schools) last for ages outdoors. If the table is big enough, you can use it for washing up as well. If not, have another one. All this stuff can be left tucked away in your bushes; no one's going to pinch it!
The Fire
Unlike your cooker at home, the campfire has none of those handy knobs to turn up the gas, and no switch to turn it off. Depending on what kind of wood you have put on it, you may have anything from a blazing inferno to a dull choking smokescreen. Somewhere between these extremes lies the red glowing fire with cheery flames that you had pictured. You will slowly learn how to make the best use of the dead wood you are finding nearby, supplemented by split logs that have been left at least a year to season under a makeshift roof.
The first tricky bit, especially in cold damp weather, is to get the fire started in the first place. All I can say is – remember there is no law against using fire lighters, obtainable very cheaply from any big supermarket. The only snag is that they smell very strongly of paraffin, giving away your secret. Let the first person who comments on the paraffin smell have a go at lighting the next fire!
Most cooking works best on an established fire. Unless you are simply boiling a kettle, you should plan to keep the fire going until there is a bed of glowing "coals" with more sticks, and a log or two, burning steadily. To achieve this, you need to look at the fire at least every ten minutes.
Campfire cookery is either boiling, frying, or grilling. Forget ovens – you are in the business of preparing food for hungry mouths with a minimum of fuss, and a fairly guaranteed success rate. For this reason, I am not keen to recommend baking potatoes. Wrapped in foil, and left in the glowing !"coals" for 45 minutes, they can taste divine. Or be charred right through. Or still be raw. All right for fun, but not for a meal.
And so to boiling:
Boil your basics. Potatoes, pasta or rice all take less than half an hour, and can form the basis of a meal. Serve them with cold ham or chicken and salad, or with a bean stew or beef casserole brought from home. If you are reheating food, be sure to put it in one of your blackened pans (did I mention that you will need a complete set of old pans? With lids?) and stir repeatedly, at least at one minute intervals, until not only the gravy, but also the solids are heated through. You can make infinite variations on this menu, but always remember to allow longer than you think for the cooking. A campfire can get as hot as you like, but a campfire that is under control, not so hot you can't get near it, is quite a slow fire.
And frying:
You can accompany your boiled basic with fried food – or just have a fry-up. Remember that sausages, chops, and the like are going to take quite a while to cook through. Again, never turn your back on them. The fire has a way of suddenly blazing up and burning everything, or contrariwise losing interest and dying away. Frying will show up the imperfections of your fireplace construction. Oil in a frying pan has an irritating way of accumulating at one side, usually the side you would have sworn was uphill!
And grilling:
…or barbecuing, or toasting. You will need a metal frame with closer mesh than your old oven shelf; you may even have to buy a new one. This is a really simple way to cook – no pans, no washing up, and plenty of smoky flavour added to the food. Great for a party or a picnic, but doesn't produce a very balanced diet, and is a pain for vegetarians .. ever tried to barbecue veggie burgers?
Youngsters, by the way, should be steered away from the inevitable toasted marshmallows if at all possible. When done properly, well toasted on all sides, marshmallows are lethally hot inside, and can do lasting damage to their fingers, let alone their mouths.
Making simple toast, or toasting buns or teacakes, is a much more satisfactory option. Things youngsters also enjoy making on the campfire are stewed apples, or stewed apple and blackberries in season. And we find making pancakes is very satisfying (remember the lemons! And lots of sugar).
Leave a comment
Subscribe to our blog email updates
Managing Your Woodland for Wildlife
A new book on encouraging biodiversity in your woodland. Available free here »