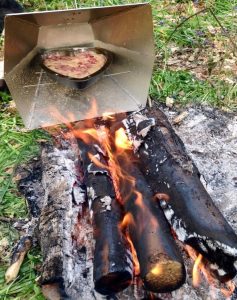 This clever device redirects the radiation from an open woodland fire to create a cooker so that outdoor cooking can be about much more than just frying pans, kettles and grills.  With a reflector oven you can cook both sweet and savoury -  bread, cakes, pies, scones, fish and vegetables.  The reflector oven bounces the heat around inside, and also contains it, so that whatever is on the shelves is baked as well as it would be in a conventional oven.
This particular model was invented by Svante Freden, a Swedish manufacturer - who apparently fabricates these devices in a "small outbuilding" in Sweden and retails them for about £50 each - they can be bought from Proadventure who have s shop in Llangollen, North Wales, as well as a website with lots of camping kit.
According to Liz Watson, who showed me her reflector oven, "this impresses friends but also feeds them."  So far the highlight of Liz's fireside cooking is a raspberry and almond cake (see jpg above)  - she explains that you have to use smell and texture to test whether your cake is cooked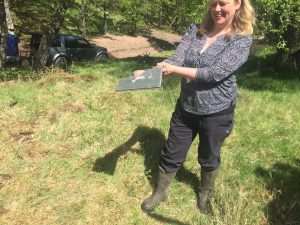 - it's much less formulaic than using a traditional oven with a thermostat and a timer.  But even that gets you back to nature - more interaction with what's actually happening and less reliance on built-in controls.  Of course that does mean more risk of you doing a King Alfred and burning the cake.
The advantages of this reflector oven design is that it is light to carry being made of aluminium and it folds away flat so it works well on a camping trip, even though taking an oven with you might sound as if you are "taking the kitchen sink".  It weighs 800 grammes and is easy to clean.  The one thing you have to be careful about is letting the bottom of your reflector oven sit on the embers - if it gets too hot it can melt the aluminium.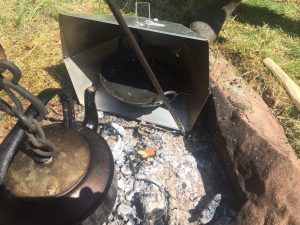 Camping covers a range of activities from glamping to just surviving in a bivouac.  Equipment also varies with some people using a storm kettle while others will just have a small campfire.  If you want to move up to classier outdoor living without the heavy modern kit which goes with glamping, then why not up your game by using or even making your own reflector oven?
---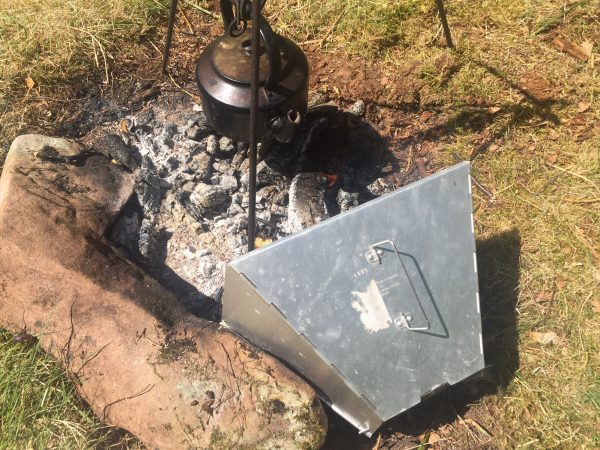 ---
---
Leave a comment