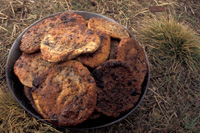 When on the trail, be it in Britain or abroad I like to carry the following ingredients with me to make what I call a Wild bread. Bannock originates from Scotland and was made with oats, flour, salt, and water but over time other ingredients have been added to the delight of our taste buds! This bread is particularly fun to make as a family.

The ingredients can be measured out at home and then carried easily, all in one large plastic ziplock bag. This is very convenient for adding seasonal foods like nuts and berries discovered on the trail. I never weigh ingredients, but measure out with a camping utensil. In this case my old metal mug!
You will need:
3 old metal mugs of flour
2 old metal mugs of milk powder
1 tsp of baking powder
1 tsp sugar
1 old metal mug of water
+ nuts/berries/etc
Olive oil.
One large pan/cooking pot.
Method:
Firstly get a good campfire established, ideally a bed of hot embers with no flame.
Put a little olive oil in your frying pan/cooking pot and place on the embers to heat up.
Add a cup of water to your dry ingredients and mix well together. (Being in a ziplock bag saves you having to carry a mixing bowl.)
Add your seasonal fruits/nuts/berries. (June is the best month to find the sweetest wild strawberries along the woodland path).
Once everything is mixed together, flatten the dumpling-like creation and place on the hot oil. (I find that it is important that the thickness of the bread is an inch and no more: anything thicker and it will end up being uncooked inside and very burnt on the outside.)
Fry the bread for about 7 minutes on each side until golden.
Once cooked, break the bread with your hands, but watch out as the bread will be very hot.
And finally, don't be tempted to use a knife to cut the bread as this will bring bad luck!
Happy eating!
Annette Stickler enjoys outdoor cooking, greenwood carving, researching and experimenting with natural materials and making forgotten primitive artifacts. She runs Campfire Skills, running bushcraft courses in Hampshire.
Leave a comment
Subscribe to our blog email updates
Managing Your Woodland for Wildlife
A new book on encouraging biodiversity in your woodland. Available free here »