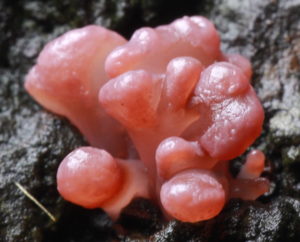 Looking out of the window as I type this month's fungi focus, it is difficult to believe that but a few months ago we were at the tail end of a prolonged and intense heatwave and drought. Now as we plunge towards the depths of midwinter, the traditional mushroom hunting season is already well past its peak.
Like heat and dryness, most fungi seem to have little tolerance for frost, snow and ice. But there's no need to be too pessimistic that it's all over for another year. There's still plenty of stuff out in the woods and after several years of writing in these blogs about what can be found in any given month, as far as I'm concerned the season is never really over. "Seek and you shall find" is my chosen mantra when I head out with my camera.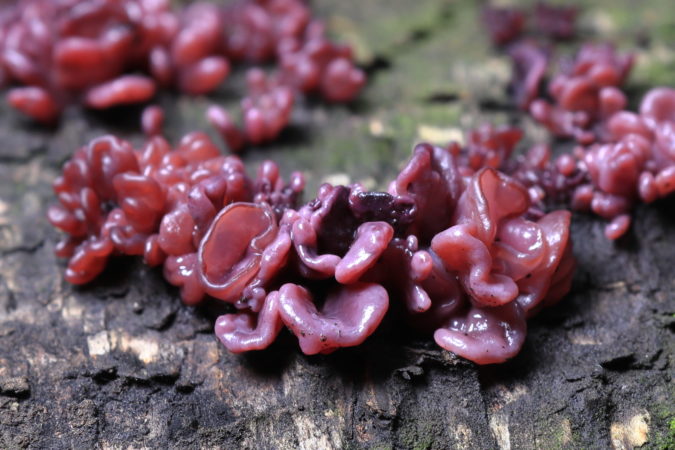 In fact, I perversely prefer the winter months to the brief but intense height of the season during September to November, a period that yields so many discoveries that photographing and identifying them all can be onerous and overwhelming, and when the forest floor is so dynamic it is difficult to know what species to make the subject of these monthly focusses.
Winter is a great time to concentrate on the less showy side of the fungi kingdom; the crusts and the jellies and the other little things you might not notice until you actively start looking. This is the time to persevere with getting that ever-elusive perfect photo of such commonplace species as Candlesnuff Fungi (Xylaria hypoxylon), for example. It is most likely that in the process, while crouched amongst the crisp leaf litter, your eyes will wander and you'll end up discovering something else you'd might otherwise never have noticed.
Candlesnuff
With this end-of-year windup for the winter, I decided to focus on a species that has just emerged over the past month that might be lingering a little longer while we wait for Spring. I've written before how jellies such as the Yellow Brain fungus and the various other types some refer to as Witches' Butter manage to resist regular freezing and defrosting and can be found many months after they first emerge. To the list we might also add Jelly Ears and Tripe Fungi, but also another one I've not yet covered, which is the Purple Jellydisc (Ascocoryne sarcoides).
These can take a variety of forms, from walnut-sized and brain-like to the more discoid example one might expect from its common name. They start emerging mid to late November, when the temperatures first start dropping, growing in clusters on dead deciduous trunks and branches – often beech but certainly not always – as if oozing from the wood.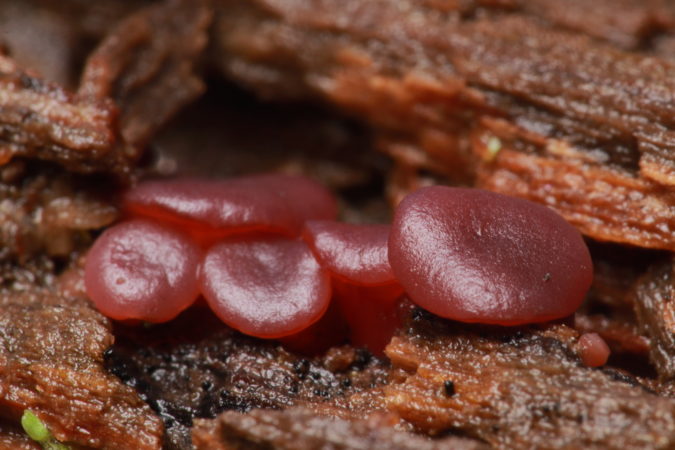 One might assume from the shape and texture that these are closely related to Yellow Brains and Crystal Brains, but whereas these other jellies are basidiomycetes (producing their spores on external structures), Purple Jellydiscs are ascomycetes (with their spores developing internally in sac-like structures called asci) - again, I've regularly covered this crucial taxonomic distinction, such as for example in some detail here.
I would label the Purple Jellydisc a very common fungi, in that I've found it in every woodland I've ever spent much time in, although it is not as conspicuous as the other jellies. Yellow Brains, for example, seem to be appear quickly and fully formed, while Purple Jellydiscs seem to emerge small and grow slowly.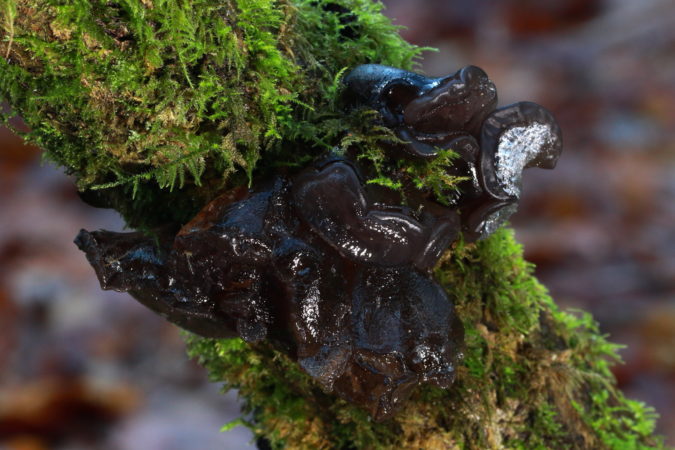 Black Witch
I'm not entirely sure they are as durable as these other "true" jellies either; I've monitored a single growth of Exidia glandulosa, the Black Witches Butter, for a period of almost half a year, watching it dry, inflate, freeze and defrost through the seasons, but I am not entirely sure if I've really ever registered Purple Jellydiscs past January.
These are also rather drab in the winter light too, more reddy brown than purple, and more opaque than glistening. They are consequently rather difficult to get a decent photo of, although with artificial lighting one gets a better sense of its blanched beetroot hues and jelly baby-like texture.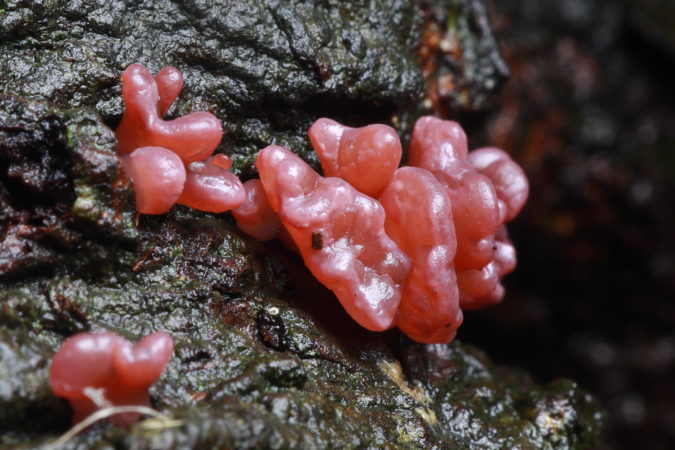 This should all be enough for the casual nature lover to be able to look at a specimen fitting this basic description and to ascribe a name to it. As usually seems to be the case in mycology however, with the two near identical Yellow Brain species proving the point wonderfully, there are a handful of other species in the Ascocoryne genus that look pretty much exactly the same and share similar environmental niches.
To prove this rather maddening point, just a few weeks back, I found a group of purplish discs growing in clusters on a fallen beech trunk that looked nothing like any other Purple Jellydiscs I'd ever found before, but they did fit descriptions of Ascocoryne cylichnium, which has the common name of the Budding Jellydisc. First Nature describes this species as "similar but its fruit bodies remain cup shaped rather than merging into a brain-like form."
So far so good, I thought, and if I didn't have a microscope in my possession, I would have left it at that. But as First Nature also wrote, that "it can only be identified with certainty by microscopic study of the spores, which are much larger than those of Ascocoryne sarcoides", I decided to dive in for a better look. At this point, I was also informed of the existence of a couple of further species that looked pretty much the same: Ascocoryne solitaria and Ascocoryne inflata. They could only be distinguished from one another and identified with any conviction through close microscopic scrutiny of specific structural details. Needless to say, they don't have English common names.
Anyway, to cut a long and potentially very tedious story short, I did look at my sample under the microscope and it turned out after all to be your bog standard Purple Jellydisc, Ascocoryne sarcoides, after all.
I don't think there's much more to add at this point beyond a Merry Christmas and Happy New Year to all who have read this far!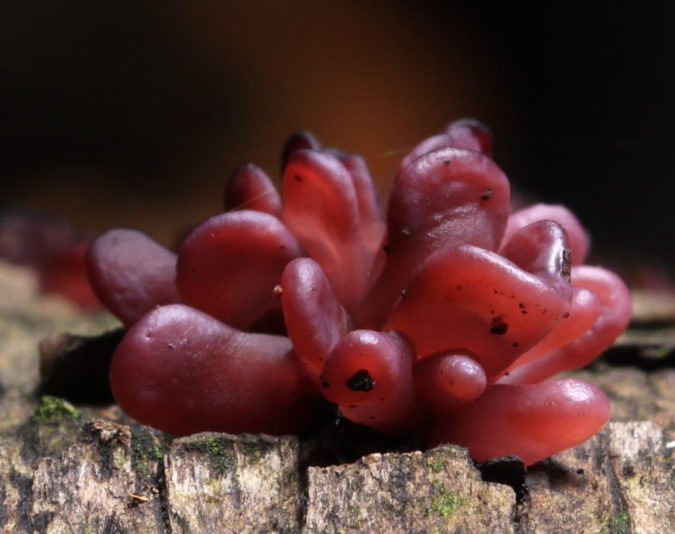 ---
---
Comments are closed for this post.
---