I've always been drawn to natural spaces. As a teenager, when I was first able to drive, so I would round up my girlfriends, along with walking boots, sleeping bags (and a bottle of wine or two) and head out into the Yorkshire Dales. Walking, talking and appreciating natural beauty was food for the soul. We would put the world to rights whilst at the same time figuring out ourselves somewhat - whilst walking the beautiful Dales.
After university, I worked for some years with various charities, mainly supporting victims of sexual abuse / violence, domestic violence, and hate crimes. As rewarding and much needed this work was, I did take a personal toll.  This was when Reiki (a Japanese healing modality) came into my life. I trained in reiki becoming a reiki master / teacher and set up my own private Reiki Practice in 2015. 
I began running reiki and meditation groups but longed to work with my groups in natural spaces. At the time I was living in West Yorkshire, but felt called to move into the country side and to work amongst the trees and natural landscapes. My spare time with my little family would always find us out in the countryside, exploring woodlands and wonderful natural spaces.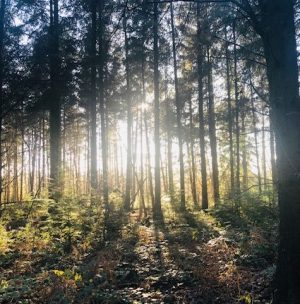 We moved to North Yorkshire in 2018. I began running retreats, working in collaboration with others who owned land and beautiful natural spaces that I could use in my work.   Working in nature is so healing! The energy and air amongst trees is full of their healing aerosols that contain antivirals, anti-inflammatories, analgesics, antiseptics and antibiotics. 
The concept of 'Forest Bathing' (Shinrin-Yoku in Japan - where the term was coined) is about mindful presence whilst bathing in the natural healing energy of the trees. The act of just 'being' …… and absorbing the healing energy of the forest.   Dr Qing Li (an environmental immunologist & forest bathing expert) leads a team who research the effects of forest bathing. His research has found that every minute we spend close to trees, lowers our levels of cortisol (the stress hormone). His research has also indicates that time spent amongst the trees improved T-cell function (improved immune system), decreased blood pressure, decreased respiratory rate, decreased stress and anxiety due to the lowering of cortisol and adrenaline, thus improving mood. There is more and more research emerging that proves the positive impact of the tree antimicrobials on our mental wellness. 
"Spending at least 120 minutes a week in nature is associated with good health & wellbeing" – Mathew P White - study of over 20,000 people.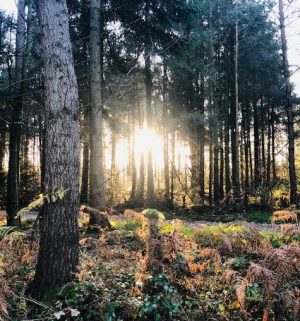 In the presence of trees, we heal! We breathe in these antimicrobial aerosols, but they also fall upon us too. Our skin absorbs them, as does our hair and even our eyes. And as we allow ourselves to be in appreciation and gratitude for our natural surroundings, truly noticing the beauty of nature, we bring ourselves present and still, we let go of the need to check our phones and are often pleasantly uncontactable due to lack of signal. We let go from the rushing race of normal life and we BREATHE! The air amongst the trees is medicine to the mind, body and soul. We heal on all aspects when we are submerged in nature.
We are so delighted to have purchased our woodland on October 27th 2020 - Amazing things can happen whilst in a pandemic!!!   There is no better time to become an owner of woodland, not only a place of natural beauty and healing, but somewhere that gives you freedom in a time when our freedom and civil liberties have become ever more restricted. 
I walk into my woodland feeling one way, and I walk out feeling completely different, changed for the better. A wonderful grounding experience takes place every time I visit!  I look forward to working with small groups amongst the trees in this peaceful and meditative way.  I hope to truly restore, enhance and enlighten people's lost connection with our nature allies. 
---
---
---
---
Leave a comment