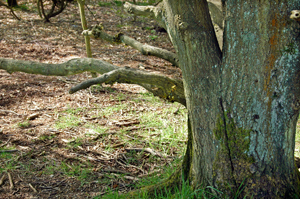 Public access has dominated the debate on the proposed Forestry Commission (FC) forestry disposals, but behind the official documents there are a few less obvious but perhaps important implications:
The government don't really trust the Forestry Commission, DEFRA or even politicians any longer as owners of the forests.  There have been some kind words said publicly about current management but it is clear from what's being proposed that the government want to get this land out of FC hands just as soon as possible.  If you doubt that, consider that there are about 620,000 acres at stake - 18% of English Woodland - and the proposals leave the FC managing almost nothing (perhaps a small "legacy estate").  This will seem harsh to many people as Tim Rollinson and his team have in recent years very much focused the FC on agreed objectives such as biodiversity, public recreation, and climate change issues.  Perhaps some of those in government felt that the organisation should be punished for past wrongs, such as the large scale conifer planting on ancient woodlands in the 1950s, 1960s and 1970s.  Or perhaps they simply saw the FC culture as too fixated on timber production, however hard the people at the top tried to adjust to new objectives.
Poachers or gamekeepers?
There is another tension which government ministers spelt out – that there is a conflict in being owner-manager and regulator of large areas of forestry.  But there is also a geographical element: whilst Welsh FC woodland decisions are made in Cardiff and Scottish ones in Scotland, it seems odd that English ones are also made in Edinburgh, Scotland.  In DEFRA's proposals the Heritage, Community and Multi Purpose woodlands would all be owned and managed much more locally, by charities and local groups.  The consultation document has considerable reference to local management and in the final section of the document they make clear that in future policy decisions should be made by DEFRA (in London) rather than the FC (in Edinburgh).
As if this wasn't explicit enough about how keen she is to get the woodands transferred away from the FC, Caroline Spelman said in the House of Commons debate that putting the Heritage and Community woodlands "in the hands of charitable trusts will put them beyond the reach of Whitehall politics once and for all."
The Public are shocked, but unaware
The public reaction has revealed very widespread and deep interest in English woodlands, but also many misunderstandings.  Perhaps this means the public haven't been much engaged over recent years.  For example it comes as a surprise to most people to be told that the majority of the estate was acquired since the war – many bloggers seem to believe that it has "belonged to the people" since time immemorial - even since the Magna Carta of 1215.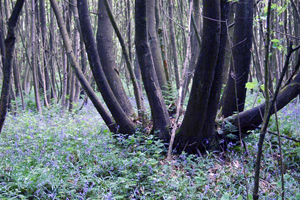 The consultation makes clear that well over half the FC estate is coniferous but this has not been publicised – much of it is can be seen as, in effect, long-term farming with even-aged monocultures managed as industrially as possible, but the impression the public naturally have is that it is all like the bluebell woodlands where the visitor centres tend to be located.  One senses that for DEFRA the simplification into four main types of woodland is uncomfortably over-simplistic, but it still appears not to have been simple enough for much of the media.
The combination of heightened public interest and computer technology could make a difference in how public woodlands are used.  Sites like openwoodlands.co.uk and visitwoods.org.uk are already telling people how to find and get to public woodlands and iphone applications are likely to do so even more.  These developments literally put maps, guides and directions to public woodlands into people's pockets.
Leave a comment
Subscribe to our blog email updates
Managing Your Woodland for Wildlife
A new book on encouraging biodiversity in your woodland. Available free here »