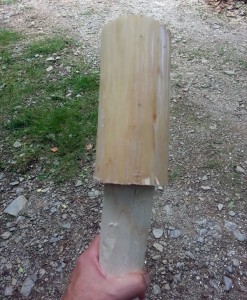 My plan is to build wood stores at home and roof them with home made larch shingles from my wood. Lack of experience with green woodworking is my biggest obstacle to success!   I borrowed a froe to see how easy it would be to make larch shingles, but I had assumed you hit the froe with a hammer: the damage to the back of the froe caused by doing so was just a consequence of using it,  I assumed.
Luckily, before getting started I did a bit of research and discovered it didn't have to be that way. A wooden froe mallet would be ideal and would not damage the fore.   The same research revealed that making a froe mallet was very straightforward.  So at the Woodlands.co.uk Open Day at Allt Ffynnon Wen I experimented with how to do so. The mallet is cut from a single piece of wood, and is designed to be a disposable tool. Once it has deteriorated too much,  it will become firewood and I will move onto the next one! Douglas Fir was recommended, but there was none, so I decided to try ash instead.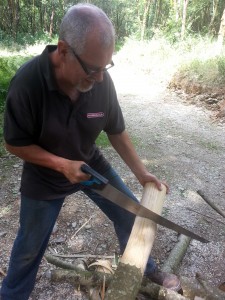 I had some tools, but nothing to hold the log steady while I worked on it, so the first job was to put together a frame from a forked section of the trunk, and two other lengths arranged in a X shape in the open end of the fork.  This kept the piece I was working on completely steady: a very simple construction requiring no woodworking or design skills, but very effective.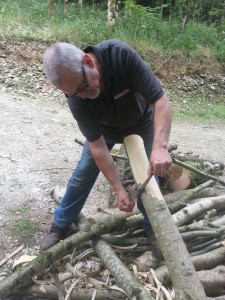 The next stage was to remove the bark with a draw knife. The length of the mallet head should the same the diameter, but the ash I was using was a bit small, so I opted for greater length in order to keep the weight up. Using a hand saw a reasonably consistent depth cut was made all the way round the log, about 9 inches from the end. The aim was to leave the centre of the log of sufficient diameter to be the handle.
The excess wood was then removed to create the handle. I used a small froe with a straight handle rather than the conventional L shape froe used for large splitting tasks to remove excess wood for the handle. It could also been done with a small axe.  Finally the draw knife was used to smooth off the handle, but that could have been done with a knife instead. Finally the mallet was cut off from the log. Its a crude mallet, but it is a disposable tool, quickly made.
I now have four mallets ready for preparing the shingles...but that is a job for another day.
---
---
Leave a comment