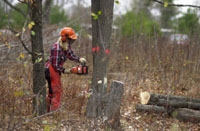 As a small woodland owner you will inevitably produce a certain amount of timber, even if this is not your main aim for the woodland.  But one of the problems facing a small woodland owner is that the amount of produce created is relatively little and therefore sometimes tricky to sell.  
Suddenly you are faced with a lot of questions.  Perhaps you are unsure how long to leave the cut logs?  Who can you sell to and how do you let them know about your product?
You've been making charcoal and people are keen to buy it from you, but how do you keep up with the demand?
What about chipping wood – is it worthwhile?
 You can't afford expensive machinery, so is there a way of sharing equipment?  And are there any grants available?
Fortunately, help is at hand.  WoodNet is setting up a Producer Group that will deal with these issues. The first meeting is on the 26th September 11am - 2pm at the Woodland Enterprise Centre in Flimwell, East Sussex.  This event is free of charge and includes lunch.
If you are interested in promoting British timber and would like to find out more, please email me, Tracy Pepler at [email protected]
 www.woodnet.org.uk runs a full schedule of courses for woodland management, conservation and timber use
Leave a comment
Subscribe to our blog email updates
Managing Your Woodland for Wildlife
A new book on encouraging biodiversity in your woodland. Available free here »